Richmond: My time is now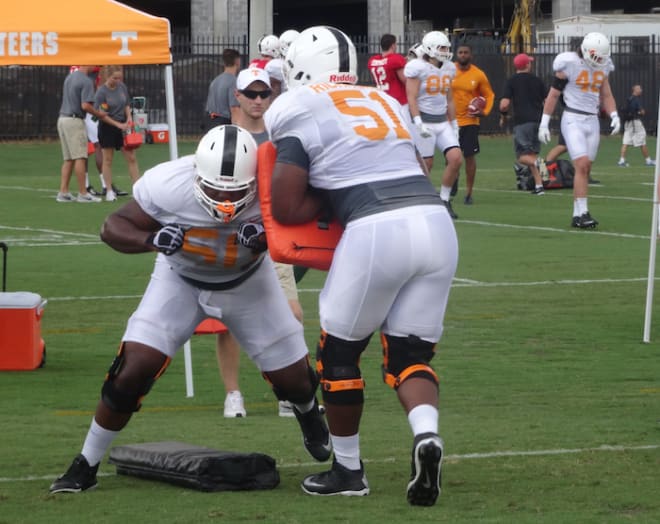 Time was the only thing that could help Drew Richmond understand. Well, that and his freshman year.
Of high school. His other "redshirt" campaign.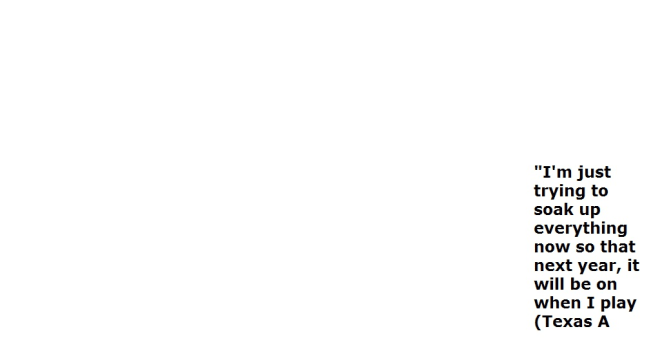 Richmond, a Rivals.com five-star and Under Armour All-America who less than 10 months ago was a bonus gift who capped Tennessee's celebrated 2015 recruiting class, spent much of his first fall as a Tennessee Vol trying to cope without playing.
"It's been really tough, because I didn't expect any of this," said the personable tackle, popular with his teammates for a personality that matched his 6-foot-5 frame. "I thought I was going to play and my career was going to go how I thought. But I got redshirted and I had to understand some things; it's matured me, it really has matured me into becoming a better person and better football player. So everything's been all right.
"It's funny, because I 'redshirted' my freshman year in high school. I was so upset about it but I had to do some self-reflecting, as Coach (Butch) Jones says, and truly had to think about myself. You know, it probably was a good thing for me. I had to remember where I started, and I didn't start just playing right away my freshman year. It took a while. So there's a process through any and every thing. I guess being a high prospect as a high school player, I forgot what I went through to get there. It took me some self-reflecting."
It took newfound perseverance, which Richmond admitted at times he wasn't sure he possessed. After nearly signing with Ole Miss rather than Tennessee, did the former Tennessee Titans Mr. Football winner contemplate a Rocky Top departure?
"I mean, yeah, there's a lot of times," Richmond, down to a svelte 295 pounds, told VolQuest.com. "I wasn't used to not playing and seeing different things go on. I couldn't react to it the way I wanted to or the way I was used to. There were definitely some hard days."
Richmond, however, found veteran teammates --- and a wizened fellow 2015 signee --- who helped lend perspective.
"Man, Alvin Kamara, Curt (Maggitt), Kyler (Kerbyson), (Dontavius) Blair. Those guys, they've been there for me," Richmond said. "Alvin, there's not a time I've come into his room looking to talk to him and he's not always been there for me. Guys on the team really helped me out a lot."
So, too, did the on-field example of Kerbyson. A fifth-year senior who in one week will play his final game as a Tennessee Vol, Kerbyson didn't notch his first career start until his fourth year of college.
"Kyler, it took him five years to get where he's at," Richmond said in his first extensive interview since he enrolled at Tennessee in June. "I had to understand that I guess I had to pay my dues in a way, fifth-year senior, and I learned a lot about my game from Kyler. He's good to me, and I just learned a lot from Kyler knowing what he's been through. It took him, what, five years to play two years of football. So I had to understand that everybody is not ready-made, it takes some maturation."
And having the respect of his older teammates hasn't diminished Richmond's transition, either.
"They respect me, they respect me. Curt, I feel like I'm one of the very few freshmen Curt jokes with," Richmond said. "Curt's cool with everybody, but we're on a different level. The older guys respect me for who I am and the way I carry myself. That's why I can take it and it doesn't bother me one bit. Just being myself, staying true to who I am. I can't change for anybody. Some people get to college and they change who they are to fit in. But I just stay me. People respect you for being you.
"That's what it is, from what I wear to whatever, I'm always me. I'm just me."
Once Richmond embraced the redshirt process, coaches likewise took note.
"I tell you what, he is really glued in," said first-year Vols offensive coordinator Mike DeBord. "He has really been focused. He wants to go win a job. I've been really pleased with him."
In eight days, Richmond should ascend atop the Vols' depth chart at left tackle. He will enter spring camp in March as the prohibitive favorite to nail down the role; he should get extensive game-like reps in the April 16 Orange & White Game.
But Richmond isn't waiting to prepare for that opportunity.
"I mean, every day like Coach Jones said back in the summer, it's being one percent better no matter what it is," he said. "And my focus, everything, has to come together because I plan on being the starter next year and I feel like the team is going to need me to be. Because we've got the potential to be really, really good. And I'm just trying to soak up everything now so that next year, it will be on when I play (Texas A&M's) Myles Garrett and those type of people. I've just got to be focused, locked in."
Moreover, Richmond must continue to prepare --- because he admitted the stakes have been poised to rise.
"Just continue to work my mental game. It's so many little things here, taking one false step, just one [can ruin a play]," he said. "Just continue to work my craft.
"It's been a long time coming, and my time is now. My time is now."