SCOUTING THE OPPONENT: BYU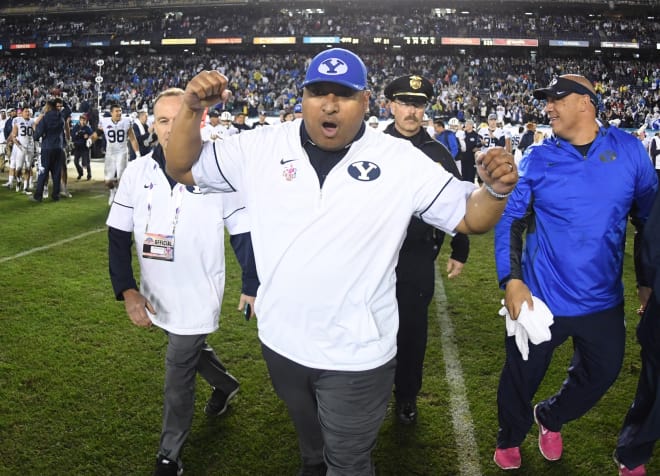 Tennessee will host BYU, now an Independent for the ninth straight year, in primetime in Week 2 (7 p.m., ESPN). We continue our preseason opponent preview with a look at the Cougars.
BYU — Sept. 7
2018 Record: 7-6
Head Coach: Kalani Sitake
Returning Starters: Offense 9, Defense 6
2019 OUTLOOK
BYU rebounded to win seven games last fall, including a bowl victory over Western Michigan. Freshman quarterback Zach Wilson wowed at times as Tanner Mangum's replacement, finishing the year with nearly 1,600 yards (65.9 percent completion percentage) and 12 touchdowns to three interceptions in eight games. Wilson had a monster bowl game, completing all 18 attempts for 317 yards and four scores.
Overall, the Cougars were inconsistent a year ago, upsetting then-No. 6 Wisconsin in Madison but also losing a home game to Northern Illinois and coughing up a three-touchdown lead to rival Utah in an eventual 35-27 loss.
They return a number of offensive playmakers, including tight end Matt Bushman (team-high 511 receiving yards) and sophomore tailback Lopini Katoa (team-high eight rushing touchdowns). BYU's defense is also experienced and ranked No. 24th nationally in 2018, but the unit isn't overly proficient in any single area, simply solid across the board.
The Cougars play a very front-loaded schedule again this fall, with four of its five games against Power 5 teams coming in the first month. If they can survive September, there's a path to eight wins.
2019 SCHEDULE
| DATE | OPPONENT |
| --- | --- |
| August 29 | Utah |
| September 7 | @ Tennessee |
| September 14 | @ USC |
| September 21 | Washington |
| September 28 | @ Toledo |
| October 12 | @ USF |
| October 19 | Boise State |
| November 2 | @ Utah State |
| November 9 | Liberty |
| November 16 | Idaho State |
| November 23 | @ UMass |
| November 30 | @ San Diego State |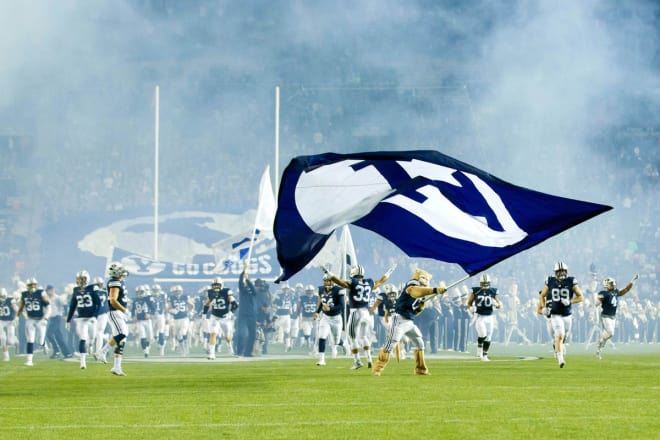 BEHIND ENEMY LINES
Five questions with BYU beat writer Jared Lloyd.
1. The Cougars are a big early test for a Tennessee team full of question marks. What is BYU's best path to an upset in Week 2?
This is a going to be a great barometer for both teams. The Cougars will be coming off a rivalry game against Utah that is always physical and occasionally nasty, so BYU will need to have depth in place to counter the inevitable attrition rate. It's doubtful Tennessee will learn all that much against Georgia State in its opener, so the Volunteers will get their first chance to show if they've improved against the Cougars.
BYU needs to do what it did to Wisconsin in 2018 to have a chance to go into Knoxville and get a win: Shut down the Volunteer run game and keep the game close. If the Cougars have the lead late, all the pressure goes onto the shoulders of the home team and that's not easy for a team bouncing back from a losing record. BYU has the players to compete with Tennessee but can't afford to make costly mistakes.
2. Zach Wilson missed the spring due to shoulder surgery. Is he fully healthy now and what are the expectations for him in Year 2?
After taking over as the starter for BYU midways through the season, Zach Wilson -- a true freshman -- had some impressive performances but couldn't get the Cougars to wins late in games against their three best late-season opponents. If the lingering pain that was the catalyst for his offseason surgery impacted his game, it didn't show.
Wilson has been limited physically for the first half of 2019 but the word is that he is on schedule to return in time for fall camp. He says he has spent the time studying all sorts of film, which could be a huge benefit if it results in improved decision-making. BYU fans are hopeful that Wilson will prove to be the next great Cougar QB and the initial returns are promising -- but he still has a lot to prove on the field.
3. How do the Cougars plan to replace top pass rushers Sione Takitaki and Corbin Kaufusi? Who are some notables to watch on defense?
The questions surrounding the BYU pass rush are some of the most glaring on the entire team, since Corbin Kaufusi and Sione Takitaki did a lot of that work. The reality is there are no obvious heir apparents, although the Cougars are optimistic about what Corbin Kaufusi's little brother Devin can become (he's just a sophomore).
The team needs players like Zac Dawe and Trajan Pili to be more disruptive. BYU should be strong at the safety position, with top returners Austin Lee and Dayan Ghanwoloku back for another season.
There is talent in the linebacking corps as well, if Zayne Anderson and Isaiah Kaufusi (Corbin and Devin's cousin) can stay healthy. Keep an eye on big Khyiris Tonga in the middle of the Cougar defensive line as he can be a load when he is healthy.
4. BYU's OL returns three starters from last fall, including Freshman All-Americans James Empty and Brady Christensen. How will the rest of the unit shake out early in the season?
This is probably the biggest reason to for Cougar fans to be optimistic about the 2019 season. BYU offensive coordinator Jeff Grimes is no stranger in SEC country, having coached offensive lines at Auburn and LSU, and with his staff is molding a physical offensive front. Along with James Empey and Brady Christensen, the Cougars also return Tristen Hoge, Chandon Herring, Keanu Saleapaga, Thomas Shoaf and Kieffer Longson, all of whom have experience.
There are only two senior offensive linemen on the entire roster, so there likely is still some improving to be done, but this group has been through the battles in the trenches and feels like it is ready to take a big step forward this fall.
5. Outside of Wilson, who is one offensive player for Tennessee fans to know and why?
BYU has a tradition of putting dangerous tight ends on the field and that appears to be a huge part of the Cougar offense again in 2019. Junior Matt Bushman was BYU's leading receiver last year and he will be even more dangerous if senior Moroni Laulu-Pututau is able to be healthy this season (he missed most of 2018 after helping the Cougars get the Wisconsin upset).
They are talented enough to be weapons in the pass game but they will also play key roles as blockers along the line or out in space. If those two tight ends are as good as they can be, it will open up a lot of options for the BYU offense.