Signee Tyler Baron views Vols' progression as 'something positive'
The Tennessee football program has been criticized in recent memory for letting athletes get out of state to star at other programs.
So, Jeremy Pruitt made it emphasis early on in his tenure in Knoxville to keep the good ones home.
Flashforward to now, the Vols' coach reeled in 10 in-state athletes in the class of 2020 and one of the more notable gets came from right here in Knoxville in Tyler Baron
"The biggest thing with him was his transparency," the four-star Baron said of Pruitt. "A lot of the recruiting process is coaches telling us what we want to hear. He always kept it real with me and from that, we built a solid relationship."
It would have been easy for the Knoxville Catholic product to stay at home. One of his high school teammates even signed with the Vols in Cooper Mays. But Baron had a plethora of options out there and kept his recruitment close to the vest the entire way.
"When it came down to it – it was a comfortability thing for me," Baron said. "I was really comfortable with the teammates and coaches at Tennessee. Plus, I know about the environment at Neyland Stadium and here in Knoxville.
"What we are looking to do here at Tennessee is something positive. It's something I want to be a part of."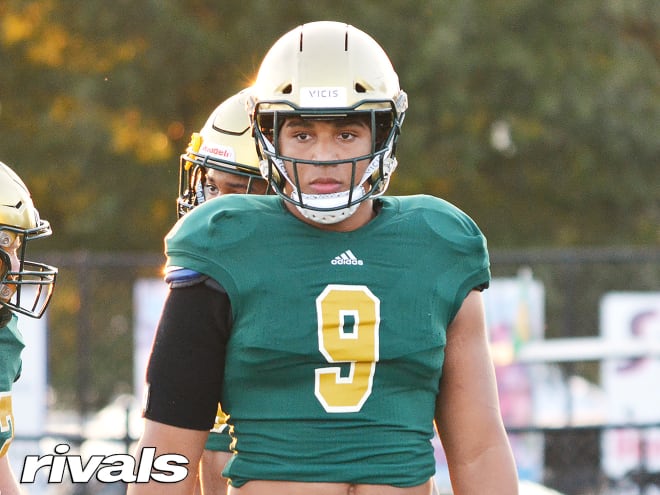 Again, the projected outside linebacker kept his recruitment under wraps. Not even the younger Mays knew who his Fighting Irish teammate was going to choose on signing day.
"We definitely talked about the possibility of doing something special – that being if we could play together again," Baron admitted. "But we have a relationship deeper than that. He never questioned me."
During a brief stint at Catholic, Baron ascended to the top of many recruiting big boards. The 6-foot-4, 250-pound prep defensive end tapped out with nearly 40 offers from around the Power 5 landscape.
Baron was the third-ranked prospect in the state of Tennessee, sixth nationally at his position and the 108th prospect in the entire country.
"I got exactly what I needed out of Catholic. I competed with some of the best athletes in the state and I got better as a player," Baron said. "It will be awesome getting to play in front of some people I got to know. It'll be a familiar crowd."
Kentucky and Ohio State pushed hard and were linked in conversation with Tennessee up until the papers were signed. Baron credits his relationship with coaches, such as the Wildcats' Mark Stoops, for making the decision so difficult.
A relationship was also built with former outside linebackers coach Chris Rumph, who recently darted to the Houston Texans. But with college athletics comes change, something Baron knew.
"When coach Rumph left, it was a big difference for me," Baron admitted. "We were pretty close. But I am getting to know coach [Shelton] Felton. I'm excited to play for him and think we will excel in that position group.
"I'm ready to get to work."
Q&A with 2020 Vols Signee: Tyler Baron
What's on the playlist?

"It really depends on what mood I'm in because I listen to everything. If I'm working out, it's all rap – probably Lil Baby or NoCap."
Favorite Football Memory?
"My senior year when we played Brentwood Academy on ESPN. I had a strip sack in the end zone that game. It was pretty sweet."
Favorite Athlete?
"It's Lebron James overall, but in football it's Cameron Jordan of the Saints. We share a similar body type and he is a monster on the field. He's my favorite player in the league."
Favorite Pro Team?
"The Pittsburgh Steelers."
Favorite Subject in School?
"Math. I'd like to think I'm pretty good at it. I really like statistics."
Favorite Hobbies?
"I play video games and hang out with my friends and family. I play Madden and Call of Duty – the big ones."