Sources: Jennings suspended week before Wednesday's dismissal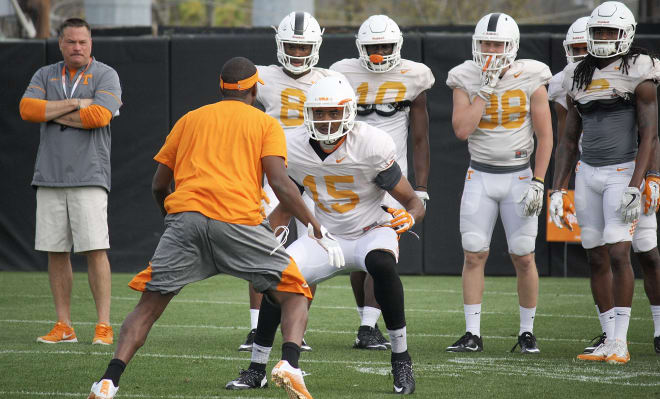 On Wednesday, wide receiver Jauan Jennings' career at Tennessee ended when the junior was dismissed from the program following a viral rant on his Instagram page. On Friday, Volquest.com learned through multiple sources that Jennings had actually already been suspended for the LSU game the week prior due to a violation of team rules.
Following head coach Butch Jones' firing on Nov. 12, Jennings had returned to being around the team after being absent for most of the last three months. He hoped to play in Tennessee's final two games of the season despite sporting a large cast from his broken wrist suffered in the season-opening win over Georgia Tech. Jennings was seen inside Neyland Stadium for the first time in 2017 against LSU, but he wasn't on the sidelines.
Instead, the junior wideout sat in the second row of the stands during the game, due to his suspension.
Jennings, who despite Jones' statements to the contrary throughout the season, had not been around the program since his injury at Georgia Tech. Jennings attended the team meeting on the Sunday when Jones was fired and told the team goodbye.
On Wednesday, Jennings was on the practice field, according to sources and a published report Friday. Jennings apparently unceremoniously left practice during stretch, telling coaches goodbye. Some 90 minutes later, Jennings went on an obscenity-laced rant on social media, criticizing the coaches and the program — specifically saying he'd been lied to but offering no details. Following the rant, Jennings was dismissed by Tennessee by interim head coach Brady Hoke with the approval or blessing of athletics director John Currie.
"In consultation with Vice Chancellor/Director of Athletics John Currie, I have made the decision to dismiss Jauan Jennings from our program. Representing the University of Tennessee football program is a privilege," Hoke announced.
The social media rant wasn't Jennings first criticism of the program on social media. When Jones was fired, Jennings posted a picture of him and Butch Jones which he labeled "fake love."