Sunshine State DT picks up Vols offer, pondering OV next weekend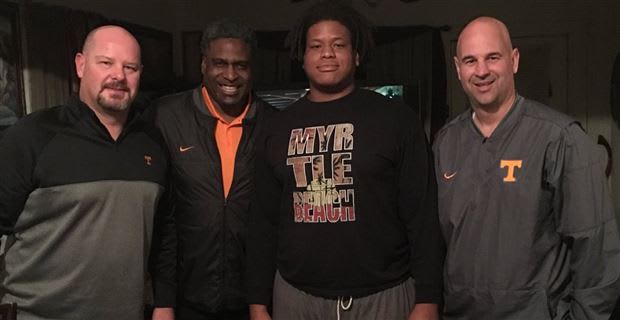 Jordan Miller committed to Georgia Southern in December, but the 6-foot-4, 305-pound defensive tackle is unlikely to end up in Statesboro, Ga., after seeing his recruitment surge in the last week.
The Sandalwood High (Fla.) prospect has garnered offers from FAU, Virginia, Louisiana-Lafayette, South Carolina, Maryland and Tennessee, hosting Vols head coach Jeremy Pruitt, defensive coordinator Kevin Sherrer and defensive line coach Tracy Rocker on an in-home visit Wednesday.
Miller picked up his UT offer in person, saying, "They were really welcoming. Coach Pruitt and Coach Sherrer, they told me that I would really fit their defense. They told me they needed my (skill-set) like blowing up the center and reading what the quarterback does."
After playing three years at Palatka High, Miller transferred to Sandalwood in Jacksonville for his senior season in hoping for more exposure. It took time, but once schools saw his film, Miller went from just two offers — Valdosta State and Georgia Southern — to interest from multiple SEC and ACC schools.
"Sandalwood just has more bonds with colleges," he said.
"They know more coaches. At Palatka they didn't have no connections or anything. At Sandalwood, they have a reputation of having good recruits come out of there and every head coach in colleges look at it."
Saints head coach Adam Geis has been there for years, and Pruitt recruited and signed former Sandalwood pass rusher and future NFL Draft pick Demarcus Walker to FSU. Miller said that the relationship between Geis and Pruitt helped him get discovered by the Vols.
"They were good friends and he shot him my film," Miller explained. "They looked at me and saw something."
Miller openly admits he doesn't know much about Tennessee or its new staff, including Rocker. He did hit it off with the former All-American defensive tackle, saying, "He seemed like a good guy. He definitely knows what he's talking about."
After taking an official visit to FAU last weekend, Miller will trip to Virginia on Friday. Tennessee is in the mix with South Carolina and Maryland for his final visit before NSD — with the Vols holding the early edge.
"Tennessee was the first one to make a move visiting me, so I'm really leaning towards visiting them next weekend," he said.