Tee Martin on the surreality of 'coming back home'
Tee Martin just completed his first spring practice as Tennessee's wide receivers coach and pass game coordinator.
The 40-year-old assistant has settled into his newfound role at his alma mater, but the former celebrated championship quarterback admitted it took him several weeks to get comfortable back on Rocky Top.
For a guy who has a street named after him right outside Neyland Stadium, the surreality of his new job was too much at first.
"There was nervousness there" Martin said.
"You've got to remember, the last time I lived here and spent every day here, I was 21-years-old. And now, you return with four kids, a wife and a dog. You're a totally different person."
"But to see Angela (Schwinge) and Kim (Milligan) and Max (Parrott), Fraz (Roger Frazier), Hawk (Allen Sitzler), Condredge (Holloway), people who were here when I was a young man and helped me grow to be the man that I am today, that they were still around giving me hugs and high-fives, that gave me a sense of being back at home again."
More than 20 years ago, Martin was a heralded recruit who came to Tennessee to emerge from Peyton Manning's shadows. That he led the Vols to a National Championship meant he never had to buy a meal again in Knoxville. But over the years, "home" felt different. As time passed, he kept arms-distance from Tennessee, especially after he wasn't hired as part of Lane Kiffin's staff and then turned down Butch Jones' advances. Martin spent seven seasons at USC before he was fired by the Trojans in the offseason.
The timing couldn't have worked out better though, Martin said. Calling it a "perfect storm," Martin was available and Jeremy Pruitt was looking to upgrade his staff. When the match was made, Martin felt "blessed" with the opportunity to make new memories at a place he holds so dear.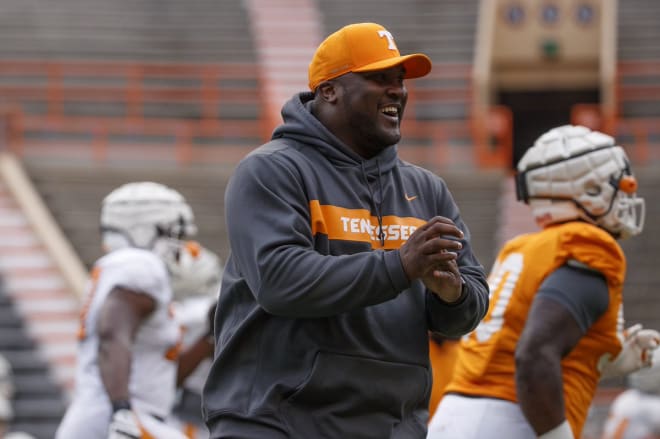 Martin's early awkwardness walking the halls of the Anderson Training Facility eventually faded as the morning staff meetings and late-night recruiting visits became routine. After a while, he felt less like Tee Martin, the former celebrity quarterback at Tennessee and instead, Tee Martin, the veteran and respected assistant working to bring his alma mater back to relevancy.
It was an academic meeting back in January when everything truly clicked.
Martin's former mentor and head coach Phillip Fulmer, now UT's athletics director, started talking.
Then it "really hit" Martin that he was back at Tennessee with a new purpose.
"It's kind of like, 'All right.' It's a little different than being a player. It was surreal."
With four seniors plus promising junior Josh Palmer, Tennessee's wide receiver unit is expected to be the bellwether of the offense. The group had a strong spring, and to a man, have sung Martin's praises. The new assistant has already made inroads on the recruiting trail, too, putting the Vols in prime position for blue-chippers like Rakim Jarrett, Thieu Bell Jones and Kris Draine.
Martin's new players, especially Jauan Jennings and Marquez Callaway, have asked him to show them his 1998 championship ring. Perhaps at some point. Maybe training camp, he said. The timing simply must be right.
But what's right right now is that Martin his happy, settled and ready to work.
"This is not just a job for me," he said.
"It means more to me since I've done it here at this place and had the opportunity to come back and get it back to what I know it can be. It's been a different feeling for me, because I've been a lot of places that I've liked when I was there coaching, but nothing is like coming back home."