Vols add Brandon Kennedy, Alabama grad transfer OL arrives on Rocky Top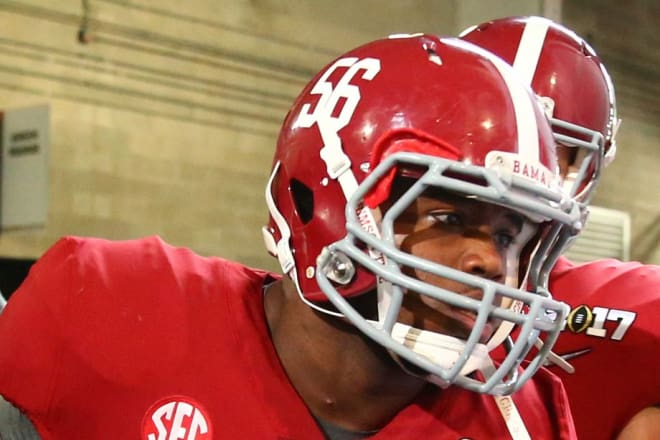 Jeremy Pruitt 1, Nick Saban 0?
After publicly opposing his former boss on the SEC grad transfer rule, Tennessee's first-year head coach received the good news he was hoping for, as grad transfer Crimson Tide offensive lineman Brandon Kennedy has officially decided to play for the Vols.
Sources tell Volquest.com that Kennedy is expected to take part in second session or July term summer school at Tennessee and is already in Knoxville around the program.
Additionally, sources tell Volquest that Kennedy chose a grad school program that isn't offered at Alabama, which helped his case to make the move within the conference before the SEC amended its grad transfer rule on June 1.
The 6-foot-3, 300-pound redshirt sophomore has two years of eligibility remaining and will immediately compete for a guard or center spot on Tennessee's starting offensive line in the fall.
Kennedy missed most of the 2017 season with a leg injury, but was healthy this spring and served as Alabama's backup center. He played in seven games as a reserve in 2016.
Kennedy chose Tennessee over Auburn after a well-publicized debate on the SEC's grad transfer rule last month. During the spring meetings in Destin, Fla., the league's coaches ultimately voted to amend the grad transfer rule requiring players to sit out a full year if transferring in conference. The change immediately opened the door for Kennedy to come to Tennessee, as the former 4-star prospect no longer needed a release or waiver after previously being blocked by Alabama from having contact with SEC schools.
During the spring meetings, Saban reiterated his stance that he was merely following the current rules and shouldn't be decried for doing so.
"I don't think it should be on me," he said.
"I think we should change the rule. If we agree in the SEC at these meetings that we're going to have free agency in our league and everyone can go wherever they want to go when they graduate, that's what's best for the game, then I think that's what we should do. Then Brandon Kennedy can go wherever he wants to go. But if we don't do that, why is it on me?"
The coaches voted later that week to allow grad transfers within the league.
While the move required more theater than necessary, Kennedy's addition is a big boost to Tennessee's offensive line. The unit was shorthanded this spring and will now have another veteran body in the mix, as well as the pending return of both Trey Smith and Chance Hall.