Tennessee's passing game passes the test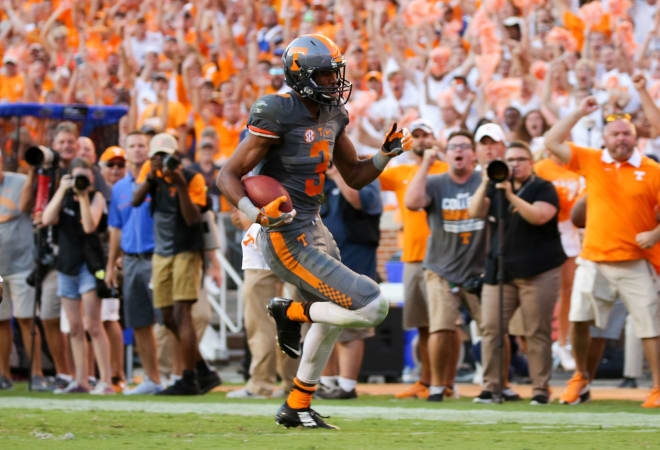 KNOXVILLE — A less disciplined team would have given into the mistakes. A less mature team would have buckled under the weight of an 11-year losing streak and a three-score deficit. A Tennessee team of the past three years would have lost this game.
This year's team, despite another slow start and another game where they let their opponent jump out to a big lead, once again made the needed adjustments and finished in a flurry, toppling rival Florida, 38-28, for the first time since 2004.
"I'm really proud of our players and the resolve that they showed tonight. That first half of football wasn't us," fourth-year Tennessee coach Butch Jones said. "That was not us and every man knew it. You come out the second half and I knew this football team was not going to be denied.
"They could have folded. They could have come in and they could have got down on themselves and they didn't. They responded like you wanted them to respond. I'm exceptionally proud of them."
No. 14 Tennessee, trailing 21-3 at the break, came out in the second half and showed the level of offensive firepower that was expected at the start of the season. Jalen Hurd found holes and ran over defenders, Joshua Dobbs made plays with his legs and, outside of an interception, carved up No. 19 Florida's top-rated pass defense.
Dobbs threw for 319 yards on 16 of 32 passing and four touchdowns, the most touchdown passes by a UT quarterback since Tyler Bray back in 2012. Almost all of it came in the second half.
"Simple, just execution," Dobbs attributed the second half outburst to. "We were shooting ourselves in the foot the whole first half and even on that first drive, whether it was bad ball location on my part or not making catches just simple things. We came into the locker room saying don't panic. It's simple, we just have to execute, play our brand of football. Once we start executing, that's when the success came."
As impactful as the Vols' passing game was to another comeback win, it was just as much a reason why Tennessee found itself down 21-points before halftime.
Tennessee (4-0, 1-0 SEC) had five drops in the first half, three of which came between tight ends Ethan Wolf and Jason Croom, and one from each Alvin Kamara and emerging target Josh Malone.
Wolf's two drops ended drives, as did Malone's. Croom's cost Tennessee a touchdown in the first quarter and the Vols ended up coming away with no points on the drive despite having first down at the Florida 2.
Florida (3-1, 1-1), meanwhile, scored three touchdowns to silence a checkerboarded Neyland Stadium and hand the Vols their biggest deficit of the year to this point.
It didn't phase them.
"We had some guys drop the football and they came up to me and said, 'Coach, I want the ball. Throw the ball to me. Give me the ball,'" Jones said. "To me, that's something we haven't had."
All four players who had a drop came up big for Tennessee in their historic comeback against the Gators. Croom caught a 15-yard pass on third down to keep a drive alive and Kamara had a 12-yard catch to move the chains. Wolf, who dropped what would have been a sure touchdown against Ohio last week, made a lunging grab for a touchdown to pull the Vols within a score. Malone hauled in a 42-yard pass and outraced the Gator secondary to the pylon, putting Tennessee up 10 points in the fourth quarter.
"You have to keep going to those guys," Dobbs said. "We have confident individuals and we know in the game of football drops are going to happen, but come back and make a play and it's good. Each one of the players that had a drop in the first half came back and make a spectacular play in the second half."
Dobbs did the same.
Dobbs threw two interceptions, both on balls that should have never been thrown, but he overcame his mistakes to help lead Tennessee's offense to a dominate half against a Florida defense that was the best in the country coming into the game.
He orchestrated a nine-play drive in the third quarter and found Hurd wide open on a wheel route to get Tennessee's first touchdown. He found Wolf six minutes later and a 67-yard pass to Jauan Jennings — who juggled the ball down and tip-toed his way down the sideline before breaking away to the end zone — to give Tennessee the lead.
"It was a great play," freshman receiver Tyler Byrd said of Jennings touchdown. "When that happened, all of us were saying, 'Yeah, it's on now. We got this.'"
Tennessee got over the hurdle that is Florida and all that came with 11 years of futility. After that win, the Vols think this offense is just now starting to get into a groove.
"We really started to play well in that second half," Malone said. "We executed the way we know we can, and when we do that's what happens."