Vols veteran linebackers finally healthy, ready to spearhead unit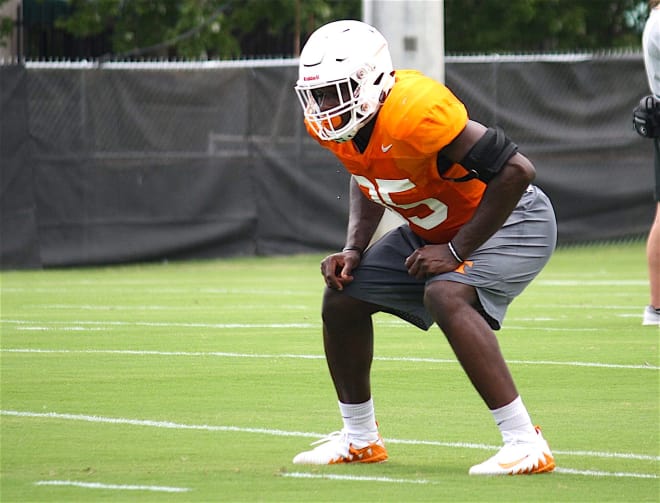 While Tennessee's defense is still adjusting to a new scheme, it was evident during Sunday's open practice that the inside linebacking corps is positioned to flourish under Jeremy Pruitt & Co.
For one, the veteran trio of Darrin Kirkland Jr., Quart'e Sapp and Daniel Bituli are finally off the training tables — maybe the first time collectively in their careers.
Bituli, who led Tennessee with 90 tackles in 2017, missed all of spring practice recovering from offseason shoulder surgery, while Kirkland Jr. is good to go after battling a litany of injuries the last two seasons. Sapp is also much bigger and stronger than he was when he seriously hurt his knee back in 2016.
"It's the healthiest we've ever been," Sapp said Sunday.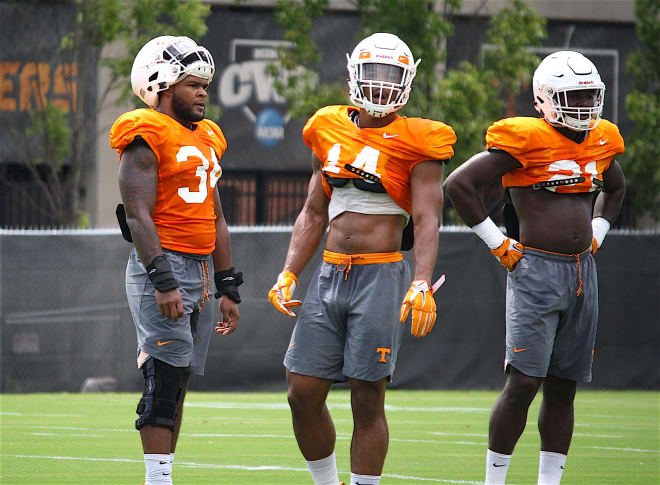 That's simply step one, though. The next challenge for defensive coordinator and position coach Kevin Sherrer is turning that depth — also aided by sophomore Will Ignont and the potential arrival of freshman JJ Peterson — and physical talent into true production.
Bituli and Sapp started 16 games a year ago and ranked first and fourth on the team in tackles, but the juniors combined for just seven stops behind the line of scrimmage. Aside from Bituli's 97-yard pick-six at Alabama, neither were particularly stout in pass coverage, either.
An offseason learning a hybrid 3-4 scheme — whether in film study or actually on the field — has made the group confident they can spearhead a defensive turnaround for the Vols.
"We're a little more comfortable [in the system] because, obviously, we've prepared and changed the defense and are putting finishing touches rather than it being all new," Sapp said.
"There's definitely more confidence because we know what we're doing. There's more stuff that we're putting in, more detail, more tedious things that we're focusing on instead of just the overall picture of the defense."
The inclusion of Kirkland Jr. back into the mix has boosted the unit, too. The 6-foot-1, 235-pound middle linebacker has a near photographic memory, and can diagnosis plays extremely quickly. Although Kirkland is still overcoming some of his physical ailments, head coach Jeremy Pruitt believes the former All-SEC freshman's presence will be a legitimate asset this fall.
"He's a fast learner," Pruitt said.
"The guy's got instincts. I mean, I watched him play back on the old film. You don't play in this league as a true freshman unless you've got something about you, and he did. He's got a chance to really help us."
Tennessee still hasn't ironed out exact roles for the three juniors, but they'll all play. A lot.
Who makes the defensive calls is one question that will be answered later in training camp, as will how the exact rotation between them sort itself out. Based on Sunday's open practice, Bituli looks like the guy who will rarely leave the field. Much like Dont'a Hightower was for Alabama's defense in 2010-2011, Bituli is a versatile 'backer poised to be the nucleus of the front-seven.
With Bituli serving as the MIKE, he and Kirkland mainly played together in the base 3-4 scheme, while Bituli and Sapp were on the field in most nickel packages. In a few dime looks, Bituli then slid to the edge as a rush-end/BUCK linebacker.
"I like how multiple we are. The coaches are doing a good job moving me around," Bituli said.
"I couldn't ask for a better defense."