Texas QB Kaidon Salter recaps Rocky Top trip
Cedar Hill, Texas quarterback Kaidon Salter had been looking forward to checking out Tennessee for several weeks. Thursday he made his way to Knoxville to get a closer look at Jeremy Pruitt and his Vols. So what did he find?
"I really enjoyed everything," Salter said. "Talking to the coaches like coach Pruitt, coach Weinke and coach Chaney were all great people. Watching how the coached in practice and seeing the campus was real nice. Just the whole staff was nice, but those main three were the top coaches I talked to the whole day."
Salter made the long trip up from the Lonestar state and after he arrived on and off campus recruiting was suspended due to the Coronavirus outbreak.Since he was already on campus he was allowed to finish his visit which included seeing Tennessee practice on Thursday afternoon.
"That was really important," Salter said. "I wanted to see how they coached and they have an offensive coordinator and a quarterback coach and most schools only have one coach who does both rules. Sitting there watching coach Weinke coaching up the quarterbacks after each play and telling them what they did wrong and how they need to improve and what they did well was really big. I loved how they coached out there."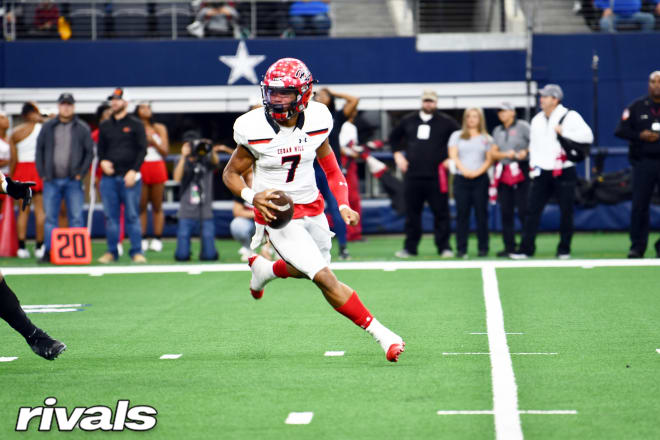 So where does Tennessee stand for Salter?
"They would most definitely make the top five," Salter said. "Tennessee is real high on my recruitment right now. They are up there with Baylor, Arkansas, South Carolina and Auburn."
Salter said his parents really enjoyed their time with the staff and their tour of campus and the academic facilities.
"They loved at just as much as I loved it," Salter said. "Maybe even more."
Salter sat down with the main offensive staff and got a feel for what they like about his game. They conveyed how they feel he would be able to fit into the system in orange.
"Basically they believe I can be a pro-style quarterback who can use my legs when I need to to get out of the pocket," Salter said. "I stand in the pocket and throw the ball. Basically they said I'd have to work for it, but I'd have the chance to come in and compete for early playing time.
So with the dead period in full effect, Salter will have to wait for his next visit, but he hopes to commit sometime this spring or summer.
"I want to definitely be committed before my senior season," Salter said. "Once the Coronavirus settles down, I'll start planning my officials and begin that process."
So will Tennessee get one of those five visits?
"Most likely."
Rivals.com ranks Salter as a 3-star quarterback in the class of 2021.