The Day After
For the first time since Peyton Manning was under center, Tennessee has won three straight bowl games with a 38-24 win over Nebraska in the Music City Bowl. We review it with The Day After.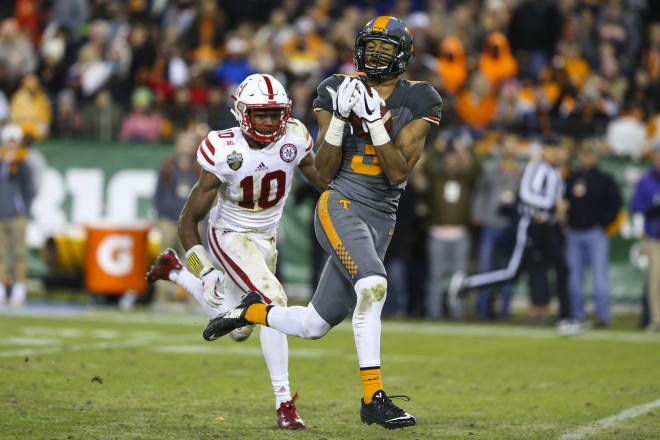 HOT AND NOT
HOT
Derek Barnett – Barnett became the all time leader in sacks in Tennessee history in the fourth quarter. Barnett was disruptive all day finishing with 6 tackles, a sack, two pass break ups and four quarterback hurries. Barnett's name could be on the hot list every week. It only fitting that Barnett finished his career at Tennessee with one of his most dominant performances.
Josh Malone – The junior who could very likely may go pro, had 5 catches for 120 yards and a touchdown. For the season, Malone had 50 receptions for 972 yards and 11 touchdowns. He averaged 19.4 yards a catch in 2016.
Rush defense – Nebraska is not a great offense, but lets give the defense some credit. After getting ripped apart on the ground down the stretch of the season. Bob Shoop's unit held Nebraska to just 61 yards on the ground and 42 of that came on one carry.
NOT
Big play defense – Tennessee's defense was vastly improved Friday against Nebraska. Vastly improved. They tackled much better. They pressured the quarterback effectively. If there was an negative is was again surrendering big plays as the Cornhuskers had a 42 yard run and two pass completions of over 30 yards. Nebraska had as many plays of 30 yards or more as the Vols did.
The killer instinct – Or in the case of the Tennessee offense, the lack of playcalling to put the Cornhuskers completely away. Up 14 points with 7:24 to play, Mike DeBord ran up the middle on first and second down in a three and out series. Then with the score the same and three minutes to play, the Vol offense went three and out with three off tackle runs. It didn't impact the outcome of the game. But with two minutes to go and the game not out of reach, Tennessee shut the offense down.
Drops – Tennessee has done a good job catching the football all season, but the Vols had three drops on what would have been big plays. They had slants to Jauan Jennings and Alvin Kamara and Jennings dropped a touchdown pass on a deep ball where he was behind the defender.
DEFINING MOMENTS
Dobbs to Malone – The two Josh's hooked up all year for the endzone but there was no bigger completion than Dobbs' 59 yard throw to Malone for a fourth quarter score. It was a huge answer for the Vols who had seen a 17 point second half lead cut to 7 with 10 minutes left in the game.
Dobbs to Kamara on 3rd and 10 – On the Vols final drive of the first half a beautifully executed nine play 75 yard drive that took 91 seconds, the two minute work nearly didn't happen. After two incompletions, Tennessee faced 3rd and 10 and that's when Dobbs hit Kamara out of the backfield for a first down and sent the Vols on their way to a 21-7 half time lead.
Barnett sets the record – It took a pass interference call extending a Nebraska drive to give Barnett another set of downs to try and pass Reggie White and become the all time leading sack holder in Tennessee history. Barnett said after the game that Reggie looking down threw that flag for him as Barnett, with about 4four minutes to play and after being close all day got Ryker Fyfe on the ground for his elusive 33rd sack and a place in the Tennessee record books.
Byrd fumble– Leading 31-17, the only way the Vols could allow Nebraska back in the game was by a turnover and freshman Tyler Byrd on the best return of his career coughed the ball up and after a Nebraska recovery, the Cornhuskers went 31 yards in five plays to make it a 31-24 game.
BY THE NUMBERS
128 and 1412– Tennessee's combined points total and yardage total against their last three bowl opponents, all Big 10 foes. In three bowl match ups, the Vols are averaging 42.7 points and 471 yard of offense. The Vols have now won their last four bowl match-up's versus Big Ten teams.
32 – The number of rushing touchdowns in Josh Dobbs' historic Tennessee career. Dobbs is only the third player in school history to have 30 or more rushing touchdowns in a career.
473 – The number of points scored by the Vols this season. That's the highest point total in school history in a single season. In their last five games, the Vols score 239 points.
100 – Number of tackles for loss by the Vol defense in 2016 also a school record. Against Nebraska the Vols had 7 tackles for loss. They also finished with 30 sacks
GAMEBALL
It's pretty simple, in his final game as a Vol Josh Dobbs was at his best. The Georgia native was 23 of 38 for 291 yards and a touchdown. Numbers could have been higher had it not been for a handful of drops. On the ground Dobbs had 118 yards and 3 touchdowns. For as good as Barnett was, Dobbs was better. He was never more in control of a game than he was inside Nissan Stadium.
Dobbs finished his career with 7,138 yards passing and 2,160 yards rushing. Dobbs is fifth in all time passing yards and he's 14th on Tennessee's career rushing list.
It's safe to say that Dobbs will be missed in 2017.
BIGGEST QUESTION MOVING FORWARD
The biggest questions surrounding this team heading into 2017 is what does Jones' staff look like in year five. What is his evaluation of the 2016 season and how does he evolve from it.
There are obvious questions with player personnel as for the first time at Tennessee Jones will have a true quarterback battle and how he manages that battle will be key for next year.
The other major question moving forward is who leads this team. With guys like Dobbs, Cam Sutton, Alvin Kamara, Jalen Reeves-Maybin, and Derek Barnett gone from the locker room, who becomes the vocal leaders and who sets the tone by example, starting in two weeks when this team returns to campus to start classes and off-season workouts.