The Day After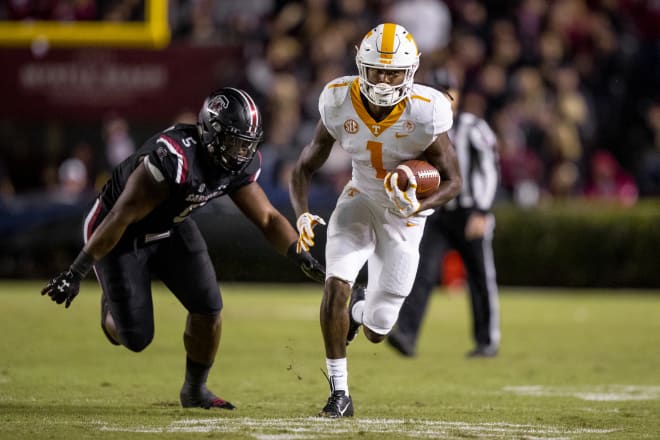 Tennessee let an opportunity get away Saturday night in a 27-24 loss to South Carolina. We review the Vol loss with The Day After.

HOT AND NOT
HOT

The Vol run game – Hard to believe, but Tennessee was effective running the football. They weren't great but they were effective. Tennessee rushed for 144 yards and a touchdown. They averaged 4.2 yards a carry and were creative in using Carlin Fils-Aime. They also ran two successful quarterback sneaks on 3rd and short.
Third down – Tennessee was terrific on third down converting 11 of 16 attempts. On their second scoring drive of the game they went 4-4 on third downs. Tyson Helton's offense also completed every third and short.
Marquez Callaway – After not getting a ball thrown his way in the loss to Alabama, Callaway led Tennessee with 9 catches for 86 yards. The sophomore did have a critical drop in the fourth quarter and a personal foul penalty. But he had a big night as 7 of his 9 catches came on 3rd down and 6 of the 7 resulted in a first down.
NOT
The defense – After forcing two punts and an interception in three of South Carolina's first four drives, the Vol defense got ran through the rest of the night. South Carolina scored on their next four possessions including three touchdown drives in a row as the Vols gave up 224 yards rushing. Jake Bentley threw for 152 yards, but 73 of that came on one play and that was a dagger for the Gamecocks. It was a bad night for Pruitt's unit whose leading tacklers were his two starting safeties.
Discipline – Tennessee was flagged 9 times for 75 yards, a season high for penalty yards. Five of the 9 penalties were offensive false starts. Tennessee had five 3rd down pre-snap penalties. Tennessee also had two critical personal foul penalties with no bigger flag than Jauan Jennings endzone taunt following his touchdown. The Vols must get their discipline back, they have been flagged 18 times the last 8 quarters.
Line of scrimmage on defense – Tennessee was credited with 4 tackles for loss but two of those came as South Carolina was running out the clock. The bottom line is that Tennessee's defensive front got shoved around. Bentley had all day to throw particularly in the second half and South Carolina's running backs were often not touched till they were 4-5 yards down field. The Vols are rotating a lot of bodies up front and you wonder if the snap load is starting to have an effect on them.
Tennessee's OLB's – After recording three sacks at Georgia, Darrell Taylor hasn't been much of a factor the last three weeks and Saturday night he was a non-factor as he was credited with only one tackle in the game. DeAndre Johnson did not record a tackle. Safe to say that the Vol run defense misses Jonathan Kongbo.
DEFINING MOMENTS
Tennessee's first quarter touchdown – It took 8 games to do it, but the Vols finally found the endzone in the first quarter. Following Shy Tuttle's interception, Tennessee went 39 yards on 6 plays and Tyson Helton dialed up a great 5 yard touchdown pass to Eli Wolf as the Vols had their best offensive opening quarter of the season.

Jauan Jennings penalty – Jennings is a great competitor and is a big time player, but his emotions got the best of him after his 6 yard touchdown and it cost Tennessee. After laying the ball on the defenders chest in the endzone taunting him, Jennings drew the 15 yard flag that was enforced on the kickoff and South Carolina started at their own 40 with 2:11 to go in the half. Carolina went 60 yards in 8 plays to cut the Vols lead to 14-9 and given them some life heading into the locker room.
Bentley to Bryan Edwards 73 yards – Leading 24-16, Bentley on first down had all day to to throw and hit Edwards who was behind the safety for 73 yards to the Vol two. Carolina would score two plays later in what was a questionable fumble where the officials blew the play dead. A huge swing in the game on that possession as Carolina scored and tied the game at 24.
3rd and 7 4th quarter drop – Let's be clear, Marquez Callaway had a big night with 9 catches, but his drop in the fourth quarter was critical. Facing 3rd and 7 at the South Carolina 35 Guarantano hit Callaway for what would have been a 5-6 yard gain given Pruitt the option to try a field goal or go for it on 4th and short. Instead the Vols were forced to go for it on 4th and 7 and Guarantano's pass was batted at the line of scrimmage.
INSIDE THE NUMBERS
9 – Number of flags against Tennessee Saturday night. With a team with a small margin, self inflicted wounds are just a killer. The Vols had 5 offensive penalties on 3rd down and a personal foul penalty that turned a 3rd in 12 into a 3rd and 27. The Vols must clean them up.

8.4 – South Carolina's average gained on first down. Of the Gamecocks 26 first down snaps, 14 of them went for 5 yards or more. Tennessee could never get Jake Bentley into third and long.
80% – Jarrett Guarantano's completion percentage on third down as he went 8 of 10 for 70 yards and 7 of the 8 completions netted a first down.
1 – Number of plays Tennessee had of 20 yards or more. Against Auburn and Alabama the Vols had 7 explosive plays. Saturday night in Columbia, Tennessee couldn't hit the explosive plays.
GAMEBALL
Jarrett Guarantano was far from perfect, but the quarterback had a really solid night setting a career high with 27 completions on 39 attempts. He threw for two touchdowns, ran for three first downs and got knocked down all night.

No one can question Guarantano's toughness and yes he's the reason he takes some hits sometimes, but he certainly gave Tennessee a chance to win with his work while being sore and banged up from the beating his took last week.
If Tennessee is going to win 3 of their last 4 to get bowl eligible, they are going to have to keep the quarterback more upright.
BIGGEST CONCERN/QUESTION MOVING FORWARD
I think the injuries are a growing concern for one. Give Marcus Tatum credit he held in there at left tackle pretty good on Saturday and he's got the job the rest of the way. Tennessee must stay healthy up front as the numbers are thinner now than they were in August.

Defensively, they miss Micah Abernathy and Jonathan Kongbo. They aren't getting Kongbo back and there's concern Abernathy might not return for several more weeks. Tennessee misses the safety badly as they have struggled opposite of Nigel Warrior the last two weeks. Trevon Flowers can't get healthy soon enough. He's not the single answer, but Tennessee must play better at safety and he could help them do that.
As for other concerns, can Tennessee get more production in the defensive front seven. Kentucky will line up and run at you so that's a forthcoming concern. Drew Lock and Missouri will throw it all over the place. Pruitt's defense must stop the the run and get to the quarterback. It was the recipe for winning at Auburn. It let Tennessee down last night. The Vols must get back to getting more production in the front seven.