The Friday Primer
For the 10th time in his first 20 games, head coach Butch Jones will take on another top 10 opponent as Alabama comes to town fresh off their mauling of Texas A&M.
It's another huge challenge for a football team that's young and that's also beat up on offense with injuries to left guard Marcus Jackson, right tackle Coleman Thomas and quarterback Justin Worley.
Thomas is not expected to play on Saturday. Jackson is expected to dress and be available while Worley has been extremely limited all week as the coaching staff has gotten both Nathan Peterman and Josh Dobbs ready to play.
"Well, it helps immensely," Jones said when asked by VolQuest.com. "They've gained valuable practice repetitions, game-speed repetitions, but you can try to simulate everything in practice and put them in hypothetical situations, but really it comes down to live opportunities. When you look at Nate Peterman getting some live snaps last year and this year; you look at Josh Dobbs last year, so again that proves beneficial for the entire growth and development of that group.
"We do [try to be proactive]. We've found out very quickly here that quarterback is one snap away, so again those repetitions are very valuable."
The uncertainties on offense only offer a bigger challenge to a unit struggling to gain it's footing and find the endzone. The Vols haven't been in the endzone in SEC play in eight quarters. They are now averaging less than 100 yards a game on the ground and the sack numbers are climbing at 30 for the season.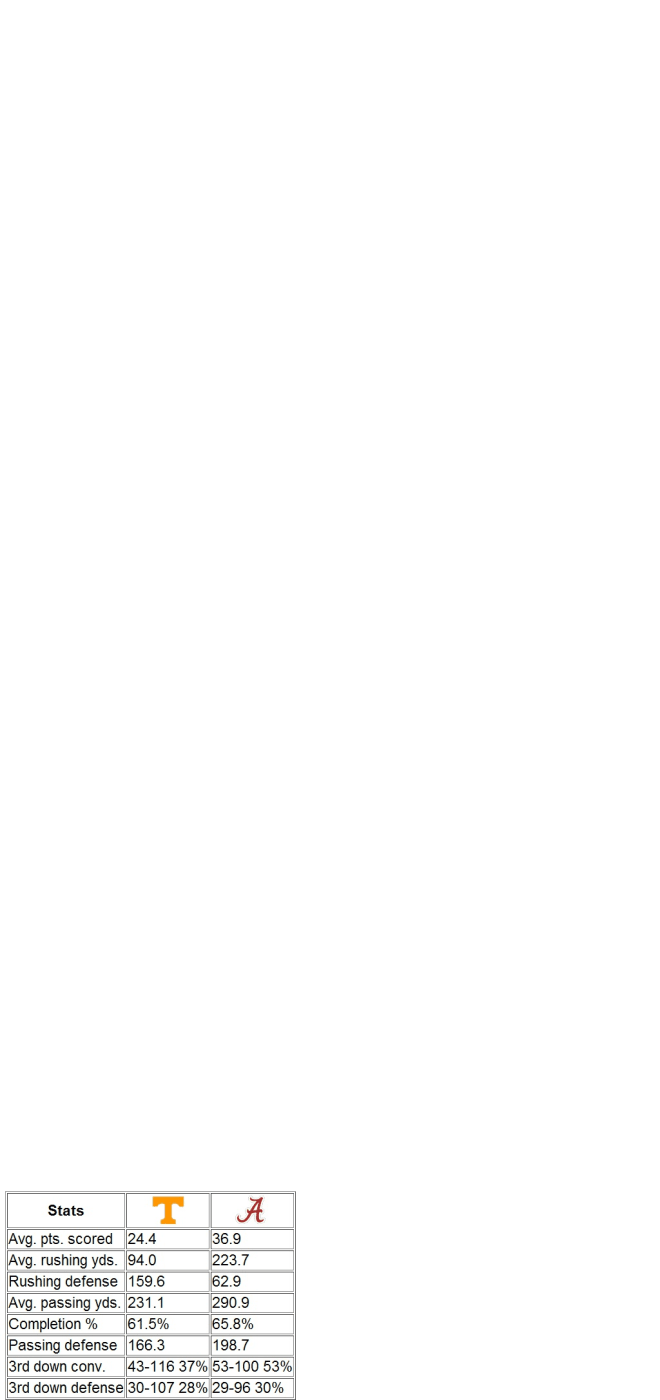 Despite the bleak picture, the Vol offense continues to say the right things when asked where their confidence level is as they go against an Alabama team that's giving up very little defensively.
"It's been a little tough," center Mack Crowder said of some of the criticism. "The great thing about the offensive line is we are all brothers up there. We stick together. We are all basically family. That goes for coach Mahoney too. Everyday we come with a positive mindset and he makes sure we all know that no matter what happens he has our back and he's going to have a great plan for us. We just listen to him and keep our heads up.
"We are still confident. Like I said, we are all confident in anyone that has to step up and play and the best five are going to be playing on any given week so the confidence level is fine. We are ready to go out and continue to improve."
Immediate improvement must come from simply making more plays and not turning the ball over. In the last two SEC games, the offense has turned the ball over 6 times and they have only two passing plays of over 25 yards and no rushes of over 20 yards. Offensive coordinator Mike Bajakian feels his unit is improving and just needs to make a few more plays.
"When you talk to these guys about, 'Hey, how close are we?' We can point. There are four to six plays in a ballgame, but we don't know which four to six it will be," Bajakian said. "We can usually point to those four to six plays and point to how close we are. 'Listen, we're not that far.' It's a game of inches, and we can point to those inches. And when we get those inches, we're going to be successful and win ballgames.
"Again, the thing we point to and the thing we point to with the offense is that believe it or not, we're making progress. It may not be evident to the naked eye, but there are things we're doing better week to week, both with execution and mentality. You've just got to make sure that you focus on the positives, while you are correcting the negatives."

Defensively, it's a real challenge to handle Alabama's balance as the Tide has the best run/pass combination that the Vols have faced. At least the home version of the Tide does. The road version today has not been nearly as effective.
Tennessee is obviously expecting the best from Alabama and it starts with their size in the trenches and in the offensive backfield.
"They are physical," defensive line coach Steve Stripling said. "The left tackle is a freshman but doesn't play like a freshman. They are a talented bunch. They are playing Alabama football."
Defensive coordinator John Jancek see the complete package offensively with the Tide.
"They can run the ball, they can throw the ball. They can move the pocket with bootlegs and sprint outs. They really balanced in all areas of offensive football. It's a great challenge not only from a scheme standpoint, but throw in the personnel that they have and that makes it extremely, extremely challenging," Jancek said.
KEY MATCHUP
Obviously, the match up on the offensive front is key and is a huge challenge. It's also a match-up where the Vols are simply trying to survive and that will be the case the rest of the season. So that match up issue is a given.
To me one of the keys is obviously going to be whether or not Tennessee can throttle Alabama's offense. An offense that's not been nearly as good on the road as it has been at home. The key for the Vols is going to be their ability to handle play action pass.
Because Alabama puts so much pressure on a defense with the run game, play action is a real weapon for them. That's where Tennessee's eye discipline and their ability to read their keys is a must.
Last week Tennessee gave up 6 plays of 20+ yards. Their most this season. Alabama lives for the explosive plays in the passing game. Mostly coming off play action. Tennessee's eyes must be great.
For a closer look at the rest of the match-up's, check out
How they match-up
from Rob Lewis.
#TRENDING
Fast starts on defense. The last three weeks, John Jancek's group has been great out of the gates.
In the first quarter of the last three games, the Vols defeense has played 11 possessions. They have given up 95 yards on 46 plays and 0 points. They have one interception, and they have forced 10 punts and had 8 three and outs.
Just unbelievable starts for the Vol defense. They will be challenged by an explosive Alabama offense. A year ago in this match-up it was 21-0 after the first quarter.
MAXIM THAT MATTERS
Carry the fight to our opponent and keey it there for 60 minutes
There's no question this is a huge challenge for the Vols. Alabama comes in as the nation's top ranked defense and the Vols haven't scored a touchdown in two SEC games. The Tide didn't give up a score last week.
The challenge this week is the fight. Tennessee has shown up every week and laid it on the line. They were competitve for 60 minutes in every game till last week. It wasn't due to a lack of effort. It was due to a lack of execution. The question is will this team lay it on the line this week.
The same challenge of 60 minutes can go to the sell out crowd as well. Do they stay the entire time regardless of what the outcome might be just to ensure there's no stadium take over by the Bama fanbase?