The Friday Primer
Tennessee and Georgia met Saturday afternoon with the division lead on the line in the SEC East. A Vol win would put them a top the SEC East at 1-0 in league play.
At 2-1, the Vols enter SEC play while Georgia at 2-1 are essentially in a must win situation for their Eastern Division hopes after letting a game get away two weeks ago in Columbia, South Carolina.
The Vols who at 2-1 are exactly where everyone expected them to be record wise and as a heavy underdog in Athens, Ga. Tennessee is not into moral victories, but there seems to be good that came from the loss at Oklahoma. Starting with the mentality of the football team according to head coach Butch Jones.
"That locker room is different. In all aspects," Jones emphasized following the loss in Norman. "The hurt factor, the care factor is much different. Now what do we do with it? How do we build on it? And we're going to be a good football team. And we're going to get back to Tennessee football. It'll happen. We just have to continue to keep our head down and keep grinding it out each and every day."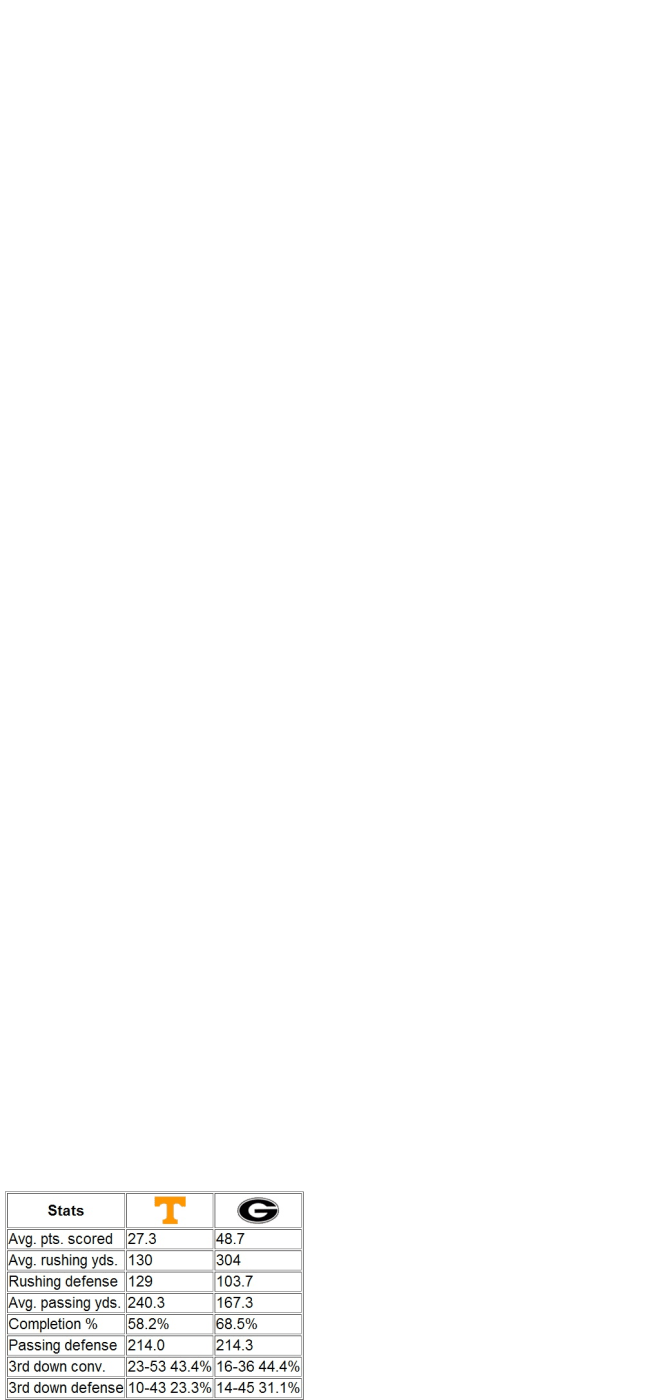 "You can feel it around campus, around the locker room and the weight room," Vereen said. "Everyone is locked in ready to go. It's a big game.
"That was a stepping stone to my career and really the whole defense getting off the field on third down. All fundamentals, swarming to the ball and stuff like that. I feel like (last year) was a big step."
Offensively, the Oklahoma game and the bye week helped solidify who the starting five are on the offensive line and for the first time this season, Tennessee will start the same offensive line, lineup.
"Now that we have had another week to build some chemistry with two freshmen on the right side and Kyler Kerbyson playing left tackle for the first time, it's huge to have that work week to build that chemistry," Worley said.
After giving up five sacks against Oklahoma protecting Worley is a must as he Dawgs are confident they can live in the Vols backfield.
"He won't have any time Saturday," linebacker Leonard Floyd said when ask about Worley's ability to throw the ball.
When asked about the comment on the SEC coaches teleconference, Jones said he was aware of it and that he knew Georgia was a confident group and "rightfully so". Jones did note on Thursday that members of his team had hung the quote up in the locker room and in meeting rooms.

While there is plenty of concerns about the Vols offense particularly with the youth up front, the story of this game is can the Vols slow down one of the nation's elite run games led by junior Todd Gurley. Gurley has 404 yards in three games this season and is averaging nearly 10 yards a carry. A year ago, Gurley missed the game in Knoxville due to an ankle injury. As a freshman, he continued his awareness to the SEC campaign against the Vols rushing for 130 yards and three touchdowns on 24 carries.
"He has great balance and yards after contact. He keeps moving. He doesn't get tackled backwards it seems," linebacker Curt Maggitt said.
Playing against an I-formation football team is extremely unusual in this day and age. Defensive coordinator John Jancek said it's becoming harder to even give his defense that look from a scout team standpoint.
"We don't get to see that a lot in spring practice or in fall camp. So it is foreign," Jancek said. "That's been a challenge for us to make sure we cover all of our bases when it comes to the two back offense and the problems they can create for that two back system."
Georgia as a team is averaging over 300 yards on the ground. Tackling and swarming to the ball is obviously at a premium on Saturday but just as important according to linebackers coach Tommy Thigpen is simply taking care of your job first. A task led by senior A.J. Johnson.
"This is his kind of football game," Thigpen said. "An old school smash mouth, we call it double chin straps where you line up and lets go play. For us it's going to be about executing and us being able to run-fit. They do as good of a job as anyone in America of scheming you. The thing about us, is we have to be focused, see the formations and when the day of reckoning comes we have to be able to tackle."
Finally, the kicking game is key particularly in this series where strange things seem to happen on special teams. Through the years there have been tons of big plays. And for the Vols, an improved kicking game in all areas is a must starting with his kickers themselves.
"Any time you have an explosive returner like Gurley, that's important. It's important that you're putting the ball in the right place because the coverage unit is expecting the ball to be there," special teams coordinator Mark Elder explained of kickoffs. "It's extremely important for us that we put it in the right spots, and it's extremely important that we read the blocking schemes well. We have to wrap up and get the ball on the ground."
And on the punt side of things, Elder said things simply have to be more consistent.
"He needs to be consistent," Elder said of Darr, who didn't have a punt of at least 40 yards at Oklahoma. "What you do on the practice field is going to be what you do on game day."
KEY MATCHUP
There are two key match-up's in this game. Defensively, it's Tennessee's front seven against the Georgia ground game. The Bulldogs will come right at you with a fullback and a pulling guard and play physical. The Georgia running backs are terrific at breaking tackles and yards after contact. Tennessee must tackle and must swarm to the ball.
The lack of depth on the defensive front is a concern, but this team has shown to be in really good shape and has played much better in the defensive front seven that most of us thought they would. The face a huge test on Saturday.
On the flip side, it's can the Vol offensive line handle Georgia's different defensive looks. With an extra week to help create some chemistry, where is this line in their communication with each other to handle the Bulldogs stunts, twists, and blitzes.
If Tennessee can't keep Worley upright it's going to be a long afternoon.
For a closer look at the rest of the match-up's, check out
How they match-up
from Rob Lewis.
#TRENDING
Elimination of big plays on the ground. Through three games, the Vol defense has only given up 3 runs of 20 yards or more and only 10 total offensive plays of 20+ yards. Saturday in Athens, that number will be put to the test with the Bulldogs high octane ground attack. Tennessee must swarm to the ball and they must tackle well.
Tennessee has been good in the redzone offensively going 13 of 15 on the season. At Oklahoma in the second half they had to settle for a field goal, they threw an interception on the goal line and why not in the redzone (they were at the 26) Tennessee threw another interception in the Oklahoma endzone. If the Vols are going to pull the upset they must score points in the redzone.
MAXIM THAT MATTERS
Protect our kickers, our QB, our lead and our ball game
I don't know if the Vols will have the lead or not. The obviously did a year ago and couldn't hold it, but certainly protecting the the quarterback better is a must for the team Saturday afternoon. Senior Justin Worley has been sacked 9 times in three games. The Vols gave up 18 all last year and only two through the first three games a year ago.
The Bulldogs have recorded 8 sacks in three game this season highlighted by Amario Herrera's 3 sacks. With an offensive line learning, the Vols must find a way to manage the Bulldogs blitz packages and different looks especially if they are in third and long.
Two weeks ago South Carolina was effective throwing the football and it started with their ability to protect the quarterback.
On special teams, this series has long been wild in the kicking game and Tennessee's punts and kickoffs have been anything but stellar and consistent. The Vols coverage units must be really good and Matt Darr's operation time must be fast. Don't be surprised if Georgia doesn't come after a punt. Darr has already had one partially blocked this year.