The Monday 3-2-1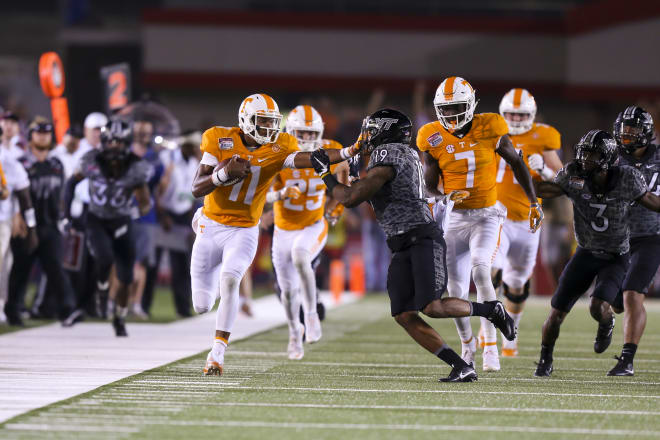 It's Monday and that means time for the 3-2-1 report. Three observations, two questions and a prediction as the Vols start the second half of the season.
Three things we learned this past week
The Vols final five aren't impressive – Tennessee will be heavily favored the rest of the way against five remaining opponents who have a combined record of 16-21. On Saturday, Tennessee's final five went 4-1, but gave up a combined 154 points for an average of 30.8 per opponent. The Vols are opening on the road in the SEC this week as a two touchdown favorite at South Carolina which certainly is a statement about the second half of the Vols' schedule.
Finding intensity and being at your best is hard – We see it every week, but in watching a lot of college football this weekend, I'm reminded just how hard it is to get a team to be at their emotional peak and playing at a high level every week. As fans, you don't understand how you can be flat, but the reality is that it's hard to get ready for 13 weeks. How else to you explain Arkansas not getting off the bus at Auburn, Ohio State not getting it done at Penn State, etc, etc. So even though the Vols are going to be favorites down the stretch each week, you can bet that there will be at least one nail-bitter the next five weeks.
Officiating has issues in the SEC – No one expects perfection as the game is moving extremely fast, but there's more uncertainty than ever on what is and what isn't a targeting call. I saw a missed horse collar tackle in the open field and Ole Miss quarterback Chad Kelly was struck in the head by an LSU defender that was missed. Again no one expects perfection but with all the money that is made in the SEC and all the money that is on the line in college football, officiating has to be a growing concern.
Two questions heading into the week
1 – How healthy are the Vols?
It's the same question each week, but coming off an open date how much better are the Vols health wise? Is Darin Kirkland, Jr. healthy enough to play? Do they get Malik Foreman back? What about a guy like Chance Hall? What is the story on Alvin Kamara? It seems very doubtful that Kamara plays the next couple of weeks, but when does he return?
2 – How creative does Bob Shoop get?
After giving up nearly 791 yards on the ground the last two games, what is Shoop's answer to stopping the run? Is it simply get healthy? With Cam Sutton out and with Jalen Reeves-Maybin and Kahlil McKenzie out for the year and Danny O'Brien dismissed, the Vols are facing obvious challenges. So how does Shoop find a way to stop the run. Does he move personnel around or does he scheme some things differently? Bottom line is that Tennessee must stop the run better. They are currently 108th nationally in run defense.
One prediction: Dobbs will run
With a week off and a week of rest for Josh Dobbs, look for the senior quarterback to get more active running the football. Tennessee is facing some odd man defensive fronts that have given them problems, but these are not great defenses they are playing. South Carolina is 110th nationally in run defense giving up 222.7 yards a game, a 5.17 yard per carry average.
In the final five regular season games in 2014, Dobbs had 393 yards rushing. In 2015, the final five regular season games netted Dobbs 236 yards.
In 7 games this season, Dobbs has 293 yards on the ground. With the unknowns surrounding Alvin Kamara, the Vols will need more playmakers and they must find a way to get Dobbs' feet involved.