Top 100 receiver Carnell Tate loves first look at Tennessee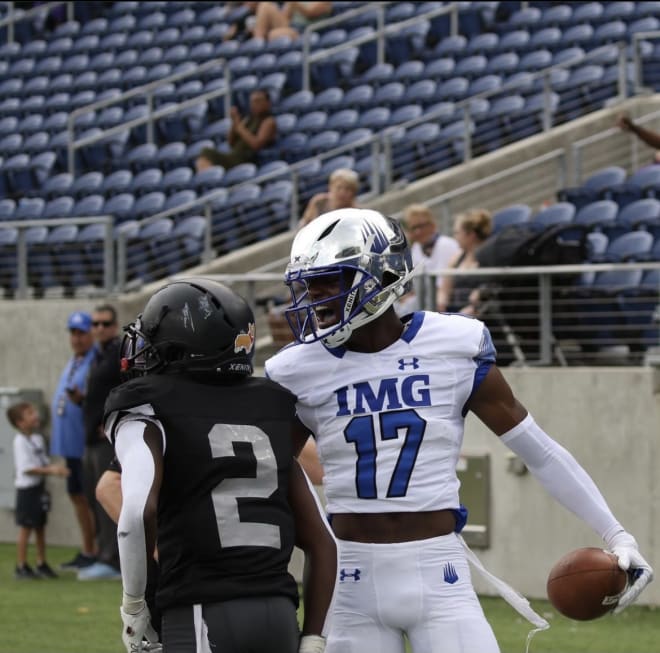 2023 four-star wide receiver Carnell Tate didn't have many expectations entering his visit to Tennessee. But the top 100 player walked away impressed from what we saw in the Vols' 45-21 win over Vanderbilt.
"It was great being able to see a different atmosphere from any other school and being able to see the coaches in person for the first time," Tate told Volquest. "I loved it up here."
"I was just hoping to see everything. I came in open-minded because I didn't really know what to expect. It was my first time getting down here so I was just open-minded to everything."
Though the trip to Knoxville on Saturday was Tate's first, he'd heard plenty about the Vols from his teammate at IMG Academy. Fellow four-star receiver Devin Hyatt, who is the brother of current Vols receiver Jalin Hyatt, has talked to Tate about the different route concepts the Vols use, amongst other things.
"Tennessee's offense definitely catches my eyes," Tate said. "I love when the ball is in the air. No receiver likes when the ball is on the ground so I definitely like the offense and it definitely catches my eye."
Now that Tate's first visit to Rocky Top is in the books, he'd like to get back up to Knoxville over the summer when it's warmer and he can enjoy it more. Still, he liked what he saw.
"I'd definitely like to get back to Knoxville and continue to see what it's like," Tate said.
"Not just the campus, but the city itself. Where I'm from we just think of it as mountains, but it was nice seeing downtown Knoxville."
Part of Tate's early interest in the Vols stem from his relationship with Vols wide receivers coach Kodi Burns.
"A cool guy that I connect with and can talk to about anything," Tate said of Burns. "He's been telling me teams with the good players win at the end of the day and they need more good players to turn the program around. And I'm a good player they could use to turn the program around."
Tate's also liked what he's heard from Tennessee head coach Josh Heupel. More importantly for the Vols, Tate has liked what he's seen from UT's receivers this season.
"Coach Heupel is a great guy and a great offensive coach," Tate said. "To see what he did at UCF and now you can see what his receivers are doing here."
Tennessee was the fourth school Tate saw this fall. In addition to an unofficial visit to Ole Miss, the 6-foot-2, 170-pound receiver took two visits apiece to Notre Dame and Ohio State.
Tate doesn't intend on making a decision until he's taken all five of his official visits.
"I can bring a deep threat and be a jump ball guy," Tate said. "I can do it all at receiver."