Top 2020 ATH Kristian Story details commitment to Tennessee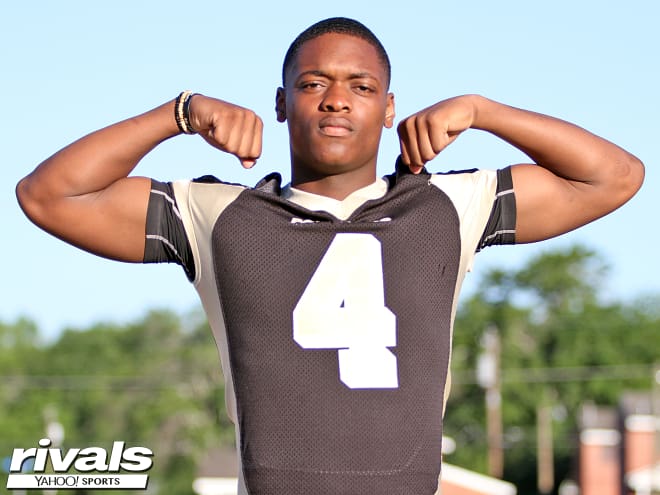 Tennessee has aggressively targeted the Yellowhammer State since Jeremy Pruitt took over on Rocky Top, and the Vols hope they landed the first of many dominos from Alabama on Thursday night.
Lanett (Ala.) athlete Kristian Story committed to Tennessee while on his second visit in the last three weeks, as one of the top prospects in the 2020 class picked the Vols over offers from Alabama, Auburn, Georgia and Louisville, among other.
"Junior Day really opened my eyes. I fell in love with it at Junior Day," Story told VolQuest.
"It was good to visit again (today). When my mom was on board, that was (it). When she was ready, I knew I was ready."
Story, who plays quarterback and safety for Lanett, has the skill-set to play on either side of the ball. The 6-foot-2, 200-pound prospect scored 50 touchdowns and added three interceptions to lead the Panthers to a state title last fall.
Tennessee is recruiting him strictly as an athlete, with Story saying, "I think my most valuable asset is my versatility. I can play quarterback, receiver, DB. Really whatever your need is, I can play. Tennessee said I can play whatever I want."
Story made his second visit to Rocky Top on Thursday, bringing his parents and little brother. The trip allowed his dad, Kristian Story Sr., to reconnect with an old friend, as UT's safety assistant Charles Kelly coached Story Sr., years ago at Jacksonville State. That relationship helped cement that "family feel" Story Jr. said he felt from Day 1.
"I really love the vibe I get up here. It's a family vibe. I love being around my family, so if you make me feel like family I'm going to make a good transition to you," he said.
"I've been with coach Kelly for a while now. He coached my dad in college, so that relationship has already been building. When I had the family feeling there, I don't think nobody can take that away Tennessee."
When Story delivered the news to Pruitt on Thursday evening, Tennessee's staff went wild — both in the meeting room and later on Twitter. The news was a special moment for Story's dad and Kelly, too.
"Pruitt was excited," Story said when he committed.
"He went back to tell the rest of the coaching staff and they all came out of the (meeting room) and came out and congratulated me. I could hear their cheering when (he told them).
"Knowing that Kelly coached my dad and now he's going to coach me. It was special."
Story knows home state schools Alabama and Auburn will continue to come calling, but said neither program has the relationships he has at Tennessee. He even joked that he didn't really like Pruitt at Alabama, but believes in the vision of UT's new head coach.
"When he was at Alabama and I was being recruited by them, I thought he was a mean guy. But he really isn't," Story said.
"He's laid back. I didn't know that until I sat down and talked with him. … I see coach Pruitt getting Tennessee back."
Moving forward, Story plans to put on his recruiting hat for the Vols. He was in town with several other top Alabama prospects Thursday, including corner Malachi Moore and wideout Dazalin Worsham.
"I'm going to be on it," he said. "The coaching staff, the facilities are second to none, but really it's a family vibe there."