Upon Further Review: 5 takeaways after rewatching Tennessee's scrimmage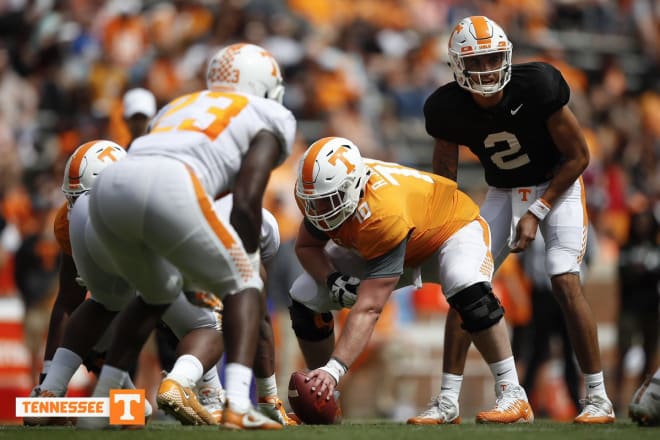 Team Orange rolled past Team White 34-7 on Saturday in Tennessee's annual spring scrimmage, but the final score was mostly meaningless.
How individual players performed was much more important for Jeremy Pruitt's new staff heading into the summer.
With the upfront caution that taking too much away from a spring game is a fool's errand, here are 5 thoughts from Saturday's scrimmage after rewinding the tape.
1. The Disconnect
Upon rewatching the film, I came away a bit more impressed with Jarrett Guarantano's performance.
Somewhere, @The_Power_T is smiling.
He didn't allow his feet to tie up his eyes as much and he showed better touch on intermediate throws.
In essence, development.
Guarantano's best throw of the day was a seam route to Brandon Johnson on 3rd-and-17 in the first half. He split the safeties for a nice gain. It was a big-time throw that illustrated Guarantano's raw tools. His touchdown toss to Marquez Callaway was perfect, too.
Still, some of the sophomore's same issues from last season popped up Saturday. Anticipation/timing came and went, Guarantano doesn't feel pressure very well — from the backside or in his face — and he misses open guys too often for an offense that already must overcome OL problems.
But Guarantano was world's better than Will McBride and we haven't seen Keller Chryst throw a football for Tyson Helton yet, so to me, the most interesting development right now is the chasm and disconnect with how fans and many in the media view Guarantano vs. what Tennessee's staff currently sees in the redshirt sophomore.
On Saturday, folks saw progress and promise, but Pruitt was less than complimentary of his quarterback following the game. He literally tossed a bucket of water on the performance, and in talking to folks in and around the program after the game, it's clear that Tennessee's new head coach wants — and needs — to see a lot more from Guarantano to be sold moving forward. Chryst will have every opportunity to come in and win the job. The Vols even hosted a JUCO quarterback this weekend who technically is eligible to enroll in the fall.
During the broadcast, SEC Network analyst Greg McElroy did his best Shawn Johnson routine, tip-toeing between praising Guarantano while also noting that it "wasn't all roses this spring for the quarterback."
That's the kind of comment that's passed along from the head coach.
How this situation unfolds in the fall will be fascinating to watch.
Really, the same could be said for Tennessee's tailback room. Pruitt refused to even acknowledge Ty Chandler's name throughout the spring and while many have already anointed the Nashville native as John Kelly's heir apparent, there's no certainty (or indications behind the scenes either) that Chandler will be the team's bellcow back in 2018.
Although the sophomore did get the start Saturday, Tim Jordan, who looked really decisive in the hole, collected nearly as many carries during the scrimmage.
Clearly, Chandler will be a factor on offense in 2018, but with bigger bodies like Jordan, Madre London, Jeremy Banks and Trey Coleman competing for snaps, it won't be a surprise if Tennessee goes tailback by committee in the fall.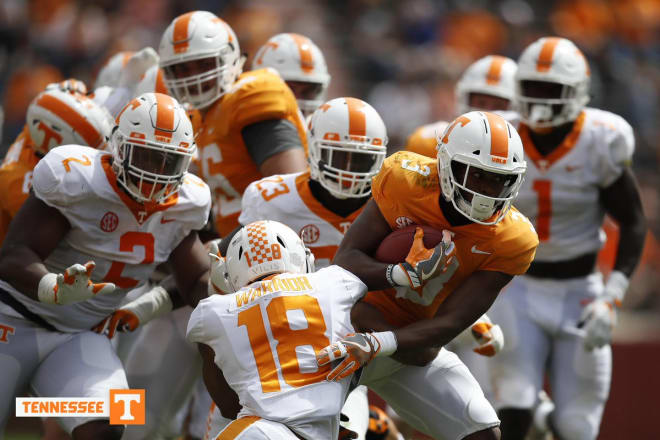 2. M.I.A.
Quart'e Sapp led the team in tackles Saturday, but overall, Tennessee's starting inside linebackers were very disappointing during the scrimmage.
Sapp had just six solo stops and missed a pair of potential TFLs in the hole due to lackluster effort. Will Ignont was invisible, routinely getting caught up in the trash and taking himself out of position to make plays.
The "lack of competitiveness" Pruitt was lamenting after the game certainly could be directed right at his MLBs. Daniel Bituli and Darrin Kirkland Jr. were obviously sidelined, but they need Sapp and Ignont to play at a higher level if the defense is going to be competent in the fall.
Rewatching the tape, sophomore Shanon Reid displayed better instincts than both starters Saturday. Reid is definitely undersized, but he attacks blocks and hunts the football. He came up with two turnovers (although his forced fumble was negated for some reason) and looks like he'll at least be a nice piece on special teams.
3. Turnstile City
Tennessee's first-team offense scored 34 points Saturday, which is a minor miracle when you rewatch how the offensive line played at times.
It would've been interesting to see the stats had Guarantano been "live."
Marcus Tatum and Drew Richmond were dreadful in pass protection.

I've long maintained that Richmond is not an SEC left tackle, and that was evident once again Saturday. The redshirt junior is solid in the run game, but his feet and bend are no match for any type of speed off the edge. Jonathan Kongbo, who didn't do much otherwise, dipped low and flew right past Richmond twice without being touched.
Meanwhile, Tatum is finally over 300 pounds, but he appeared to be playing in quicksand. The junior had minimal lateral athleticism/movement.
Tatum was beaten by a variety of moves by Kyle Phillips, who used speed, hands and power to blow past the RT multiple times Saturday.
The Vols have a major dilemma on their hands here.
Richmond has only played left tackle since arriving on campus four years ago and they need Tatum to at least become a serviceable piece considering the other options. Based on how K'Rojhn Calbert (who is the most physically impressive OL on the team, even more than Trey Smith, IMO) and Jerome Carvin played Saturday, I'll be curious if Will Friend and the staff moves off their position of playing Smith at LG, should the freshman All-American be healthy come August.
Calbert and Carvin could be Tennessee's starting guards, with Smith bumping outside to right tackle. It's certainly not ideal, since Calbert has played just a single year of high school football and Carvin is a freshman who could use a redshirt.
But they're not going to bench Richmond to start the season and Riley Locklear, while a hard worker, is overmatched physically unless he's pulling. It remains to be seen how much help guys like DeVante Brooks, who the staff reportedly likes an option on the interior, or JUCO signee Jahmir Johnson will help come August.
Ultimately, just like last season, Tennessee's OL will determine the ceiling of this team.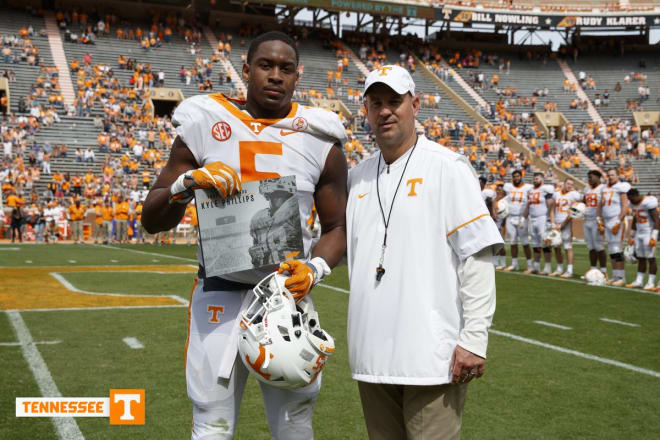 4. Five-Star Fulfillment?
While many of Tennessee's first-team defensive players took Saturday off, Kyle Phillips did not.
Finally healthy, the former 5-star recruit from Nashville was the most disruptive player on the whole unit. He moved around a bunch, playing end in the 3-4 and sliding inside in the 4-2-5. He beat both tackles and guards. Unlike many of his teammates, Phillips competed and performed like an impact SEC lineman.
It will go a long way for Tennessee's defense if the senior can stay healthy and become a versatile cog in Pruitt's scheme, playing a similar role as a guy like Da'Shawn Hand.
5. Final Quick Hitters
* Tyson Helton's offense was very vanilla Saturday, but he did tease a variety of personnel packages (from I-formation, 2TE single back, spread, pistol) and schemed up some nice passing concepts. Guarantano's 3rd-down completion to Palmer for a big gain was a perfect example. It was a deep crossing route aided by a screen/pick from the tight end running a simple hook route. The action in the middle of the field created confusion for the DB, allowing Palmer to easily find a window.
* The backup DL rotation was interesting Saturday. Walk-on Paul Bain, Kivon Bennett (who flashed some) and Alexis Johnson got the bulk of the run with 2s, with Matthew Butler playing in spots. Butler was probably the most impressive in his limited work, though. The sophomore spent the last half of spring practice at the OL before moving back to defense late last week. He has the frame and competitiveness to be a factor in the rotation this fall, IMO.
* Tennessee has some playmakers at WR, with Marquez Callaway (who showed sublime body control on his one-handed touchdown in the end zone) and Josh Palmer getting the bulk of the targets Saturday. I would've liked to see LaTrell Williams and Jordan Murphy more involved, though. Both are small, but they're quick-twitch guys who got open. Williams showed some real after-the-catch juice on his touchdown.
* The Vols aren't going to be good in 2018, so finding ways to get guys like Theo Jackson (who should at least split first-team reps with Micah Abernathy), Alontae Taylor and Austin Pope as much experience/development opportunities as possible next season seems ideal, IMO. They are the type of SEC athletes who can help turn this team around. Taylor should stay at cornerback and Pope looks like a weapon as an H-back/FB.
* Special teams could be a real issue this fall. The punting was pitiful Saturday, and Murphy made some very questionable decisions in the return game. Brent Cimaglia drilled his two kicks, but the sophomore's kickoffs had little depth.