Upon Further Review: Just what the doctor ordered
Tennessee needed that.
Jarrett Guarantano needed to hear the crowd roar after throwing a couple long touchdowns. Jeremy Pruitt needed to see his defense force a few turnovers. Vol Nation needed to see a number other than zero next to Tennessee's win column.
Saturday's 45-0 win might've been perfunctory, but when you pitch a shutout, your quarterback throws three touchdowns for the first time in his career, you force five turnovers and you avoid the injury bug, the doctor couldn't have prescribed a better elixir.
"I think it's just good for our guys to win," Pruitt said.
"You look at our football team, the makeup of them, in the last three seasons, that's just the 10th win. So the guys that have been here for three and four years haven't had a lot of success.
"And they need it."
They did.
THE STARTING 11
Each week, I'll rewatch the tape so you don't have to. There's only so much you can learn about a team pulverizing a JV squad, so I'll do my best to avoid sweeping conclusions. Here's a skinny dozen of notes, analysis and final thoughts…
1. Rapid report card grades!
QB: B
RB: B
WR: B
TE: B+
OL: B
DL: C
LB: A
DB: B+
ST: A
2. Five guys who I thought played well
A. LB Henry To'oto'o
B. WR Marquez Callaway
C. TE Austin Pope
D. OLB Quavaris Crouch
E. Tennessee's entire special teams unit (the kickers, the returners and guys like Tyler Byrd and Shanon Reid)
Many others, including Jarrett Guarantano, Jeremy Banks, Kenneth George and Dominick Wood-Anderson, showed up well upon replay, too.
In fact, as my grades suggest, I thought all of the "tight ends" who saw action Saturday performed really well. I liked the usage of Jerome Carvin (as No. 99 at times) in the heavy sets as a short-yardage solution. Princeton Fant showed some athleticism as a potential third tight end, and while Pope remains the groups best blocker, DWA was much more effective in that area Saturday.
I'm going to outline five guys who caught my eye in a section below — and To'oto'o and Crouch are in that group. Finally, Tennessee changed special teams coordinators but Kevin Sherrer has that unit still firing on all cylinders. The kicking game remains excellent (outside of Paxton Brooks' odd kickoff shank), Ty Chandler nearly broke a long return for a score and Tyler Byrd got his paws on two punts, including one that went for a touchdown.
3. Five guys who'd like Saturday back
A. The defensive line
B. LT Wanya Morris
C. The backup quarterbacks
D. C Brandon Kennedy
E. S Trevon Flowers
In a 45-0 shutout win, very few guys truly had tougher days than others, while there was one continued concern. Tennessee's defensive line didn't register a single hurry, and remains suspect in defending the run (150 yards allowed). Also, the two backup quarterbacks showed exactly why Guarantano is cemented as QB1 for the Vols.
Kennedy wasn't a particuarly effective run blocker and got away with one of the most obvious holds (he literally grabbed the defensive tackle's jersey as he was chasing him from behind and the officials didn't see it) you'll ever see.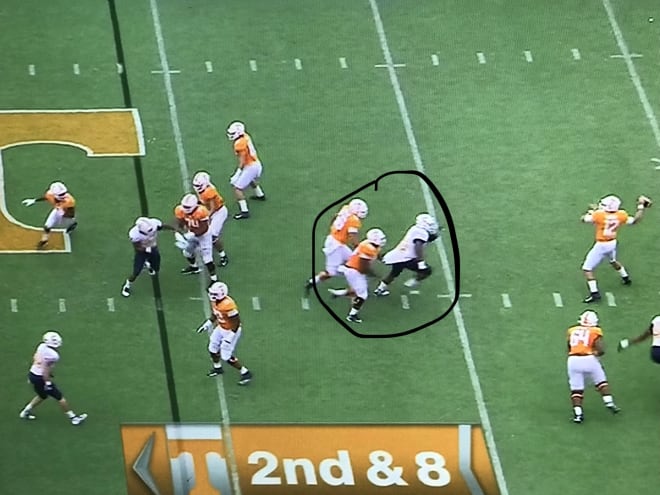 4-8. Five(+) guys who caught my eye on replay
A. Tennessee's new beef package on the right side of the offensive line
The Vols opted to start 5-star freshman Darnell Wright at right guard and K'Rojhn Calbert at right tackle Saturday, and the combined 660 pounds of upside and power were quite intriguing. Much like Trey Smith three years ago, I've long thought Wright would be best-suited to start at guard. He was just ok against Chattanooga but the talent is there. Calbert is even more intriguing. Jim Chaney loves him, as did the last offensive staff. His raw, physical talents are tremendous. Pruitt noted that "he had a really good spring and fall camp" but an injury caused a setback to start the season.
Just watch his effort on these two running plays on Tennessee's opening drive.
This is why the Vols experimented with K'Rojhn Calbert at RT.

His physicality and aggressiveness allows them to go against their tendencies (i.e. run behind Austin Pope). He scrapes the DL and moves the safety back 10 yards.

He's raw as a pass blocker but the upside is there. pic.twitter.com/kRPIwVibll

— Jesse Simonton (@JesseReSimonton) September 15, 2019
The fact he and Wright are in the game here is one of the reason's the Vols even go against their tendency (which is to run behind Austin Pope on most plays). On the very next play, Calbert takes his man all the way across the field before driving him into the ground. That "finish" and power is what has been missing from the right side.
That being said, playing Calbert at right tackle is going to come with some growing pains. That's the tradeoff Tennessee must be willing to accept moving forward.
He's very raw as a pass protector. Against SEC defensive ends, possibly starting next weekend at Florida, both these plays might've been sacks (or worse) instead of big completions.
B. Henry To'oto'o

The freshman just flashes. He didn't play many snaps Saturday as the Vols wanted to get Jeremy Banks and JJ Peterson lots of work, but To'oto'o made his presence felt immediately, coming up with an early tackle for loss and a pass breakup where he quickly read the running back and floated into the quarterback's passing lane downfield.
Henry To'oto'o is already a dude. He's a playmaker because he reads and reacts so quickly.

Freshman linebacker is second on the Vols in tackles, first in TFLs. pic.twitter.com/E4yzNTLUR5

— Jesse Simonton (@JesseReSimonton) September 15, 2019
Pruitt told the broadcasters of the BYU game that To'oto'o would be playing for Alabama, and he's right. The kid is legit and will only continue to get better as the season progresses.
C. Quavaris Crouch
Another freshman who flashed Saturday was the 6-1, 245-pound outside linebacker.
Crouch played a career-high in snaps (not sure on exact number but probably north of 30), and had a team-high of three hurries. He barely missed a sack twice. He got caught leaving his rushing lanes a few times, but that will come with more experience.
Crouch's usage was intriguing Saturday, too. At times, he acted as a normal JACK stand-up linebacker, but he probably played 20ish snaps with his hand in the dirt as as traditional defensive end. I like it. His quick-twitch and power are assets for a defense that needs more edge pressure — both in the pass and run game. Here he gets a TFL as the backside defender in run support.
D. Kenneth George
It's certainly interesting that the former JUCO corner got nearly all the run with the 1s on Saturday, while Alontae Taylor played with the backups and in mop-up duty. Many scoffed during the preseason when we noted that Bryce Thompson and Warren Burrell were in position to be the team's starters to open the season, with Thompson's off-the-field incident interrupting those plans. Depending on when the sophomore returns to the field, I expect that to be the case.
George played solidly Saturday though, and could give the Vols more depth there. He had a nice pass breakup and was the beneficiary of just a single drop (by my count the Mocs dropped six passes).
E. The freshman safeties
Pruitt gave some kudos to Tyus Fields postgame and it was well-deserved. The North Carolina native didn't get to play much Saturday but he quickly made his impact with a TFL on a knifing tackle. This is what has been missing from Trevon Flowers' game so far this season. Reading and reacting quickly, and filling the alley. Fields was clearly lost at times Saturday, but notably, fellow freshman Jaylen McCollough was constantly getting him lined up correctly.
McCollough played a lot, tackling really well (including sticking a tailback for a TFL right at the LOS) and displaying a real knowledge of the defense. Neither are probably quite ready to crack the safety rotation just yet, but in three or four weeks? We'll see. McCollough is already a special teams stalwart and Fields should see times on some coverage units moving forward, too.
Why did safety Tyus Fields catch Jeremy Pruitt's attention in his collegiate debut?

Because the converted CB ran to the alley and delivered a knifing tackle on one of his first plays.

The freshman could be an asset on special teams moving forward. pic.twitter.com/cr1G5Nzlpy

— Jesse Simonton (@JesseReSimonton) September 15, 2019
9. Penalties, man
Despite many of the positives from Saturday, the Vols were sloppy and undisciplined at times. They entered the game as one of the least penalized teams in the SEC (a notable trend under Pruitt the last season+) but they were flagged five times for 65 yards — including three obvious personal fouls Saturday when Trey Smith, Will Ignont and Trevon Flowers all decked a guy late right in front of an official. Punter Joe Doyle also got tagged with a personal foul for a late hit.
None of the penalties ultimately hurt the Vols on Saturday, but that could be the difference between a win and a loss later on the schedule. Pruitt seemed to send a message to Ignont, who I didn't play much, if at all, after he took a swing at a Chattanooga player.

10. Freshman usage
In all, 18 players from the 2019 signing class saw action Saturday, including 16 freshman. I detailed the play of several above, but guys like Jackson Lampley and Elijah Simmons also gave great effort in their debuts. Brian Maurer scored a touchdown (off a QB power-sweep no-less, which could be a new red zone wrinkle if the Vols' short-yardage problems continue). Kenny Solomon had a toe-tapping interception in the end zone to preserve the shutout.
Just a lot of encouraging moments from the 2019 class already this season.
The only players not to see action thus far this season are tight end Jackson Lowe, safety/linebacker Aaron Beasley and offensive lineman Chris Akporoghene, who remains limited with a hamstring injury.
11. The VFL PARLAY!
I actually screwed up this tweet because I should've noted that Banks, with three games at linebacker, has as many career interceptions now as Nigel Warrior, but the premise still stands. A lot of weird stuff has happened already this season, but Eric Gray not getting in the end zone might be the strangest.
Through 3 Tennessee games if you had ...

Brian Maurer scoring a TD before Eric Gray
Jackson Lampley seeing the field before JJ Peterson
Jeremy Banks leading the team in INTs
Cedric Tillman catching a TD before Josh Palmer ...

YOU HIT THE PARLAY AND WIN VOL TICKETS FOR LIFE!

— Jesse Simonton (@JesseReSimonton) September 14, 2019