VFL Career event helps Vols plan for future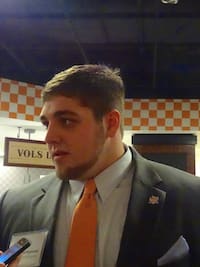 A year ago Brad Lampley had a pressing work conflict. A week ago, Mother Nature delivered the blow that forced a schedule change.
But Wednesday night inside the Anderson Training Center on the University of Tennessee campus, the former Vol Lampley joined several other lettermen and a couple dozen professionals for the 'VFL Career Development Night.'
A member of UT's Board of Trustees and linchpin for Music City Bowl operations --- in addition to his vocation as partner in the law firm Adams and Reese LLP, Lampley made the drove over from Nashville because of his commitment to the program spawned by head coach Butch Jones and VFL Coordinator Antone Davis.
"I think it's huge, and it really is … I thought about this today, looking back, and the job I've got is ultimately because of a relationship I've got with a guy who played 20 years before me that was able to put in a good word and eventually me get hired," Lampley, an offensive lineman from 1993-97 and graduate assistant on the '98 championship team, told VolQuest.com. "I'm almost a product of that VFL-type system. I think a lot of us are.
"I look back at my signing class, and we had a great signing class, but at the end of the day we didn't have a whole of guys who had the type of NFL career that they don't have to work again. Matter of fact, I don't think there is anybody from my class who had that situation. So I think these guys need to understand it's coming, it's going to be fine and there's a real network and family here that's going to help them out as much as they possibly can. I wish we'd had a program like this when I was playing, I really do. Coach Fulmer talked to us about networking and building the network, and we were probably lightyears ahead of other programs in that regard, but what they're doing now with the career skills and the development is off the charts. It makes you proud."
Added former Vols standout and decade-plus NFL veteran Bruce Wilkerson, "One day it's going to stop. It happens for everybody. Either you get cut from the National Football League, you get hurt or you retire. One of those three is coming. You want to try and set yourself up in a position where that helps you and gives you a step ahead in life. That isn't all your life is about, football and the National Football League. So even if you make it there, it just gives you a chance to be four or five steps ahead."
There's cold reality behind the words of Davis.
"It's almost a trap," said Davis, describing life as a college football player. "Everyone thinks they're going to the league. And I'm here to tell you, you're not."
And that's coming from the eighth overall pick in the 1991 NFL Draft. Davis played 97 games in the league. Then, in '99, life after football began.
Finding footing in life after football is why Wednesday night's VFL Career Development Night inside the Anderson Training Center is stressed so heavily within the football program of Butch Jones.
Targeting rising juniors and seniors on Tennessee's football roster, the event that's now in its third year serves as two hours' worth of networking with 30 representatives from more than 20 companies, most being former Vols themselves.
"It's so important for these guys to realize, even if you do go to the league, what I try to tell them is, even if you do go you may want to come back and partner with some of these businesses," Davis said. "Still go ahead and make the relationships, build the relationships.
"And heaven forbid something happens, you get hurt, now you're at least positioned to where you built that relationship. And it's a long-term relationship, not 'Hey, I'm going to shake your hand and get to know you now because I want something.' You've built that relationship instead."
In fact, that's how current Vols offensive lineman Marcus Jackson managed his internship.
"I'm at events like this all the time that I can, because I know there's always a lot more. I have an internship right now, and I met the guy for the internship through an event like this, at the Juvenile Courthouse with (judge) Tim Irwin," said Jackson, a Vol Scholar who's targeting law school. "This is great networking. I met (Irwin) at one of these events."
Davis graduated from Tennessee in 1990 and was picked by the Philadelphia Eagles at No. 8 overall in the spring of 1991. He stayed with the Eagles until 1995, then spent two years with the Atlanta Falcons and an offseason with the Green Bay Packers before finishing his football career.
Even with the resume he has - on and off the football field included - he looks back and wishes he was afforded the same opportunities.
"I wasn't this fortunate," Davis said. "I think our players have a lot of resources, and this is one of them. The big thing is it's extremely important to coach Jones to do it. He could very well say we don't have the time, we don't have the money. But he's dedicated to it and he's committed to it.
"That's huge to have it. I didn't have it. It was sink or swim with me. So I'm glad to be a part of it."
Fred White started every game of his Tennessee career as an upperclassmen, lettering for the Vols during one of the most dominant stretches in school history, from 1995-99.
He's open in admitting it's hard to shake a tunnel-vision focus on football during a player's college years.
"It's very tough," White said. "You have to realize, most these kids have been playing football since they were 9, 10 years old.
"They had a stretch of life, most of their life, playing high school football and college as well and you put in all this work because you want to go be an athlete, you want to be an NFL football player."
When that stretch ends, the search begins - a winding road that for some can lead to successful business careers or for others, depression.
"I don't think anyone gets in this game to be average at it," White said. "You want to make it to the next step. It's kind of tough because not everyone is going to make it. Guys go through depression sometimes because they don't make it, or they don't know where to turn.
"This program can help them figure out what's next for them. They know they have a support system by having this program."