Vols prepare to make state-ment
Tennessee will hold to its traditions and add some tributes to the storied program's symbols with some distinctive and noticeable changes to its football uniforms for the 2013 season.
And that's to say nothing of what other uniform possibilities might await Butch Jones' inaugural Tennessee squad.
VolQuest.com has confirmed that Tennessee will add outlines of the Volunteer State to the backs of its jerseys, both home and away, for the upcoming football season. The state will sit atop players' names.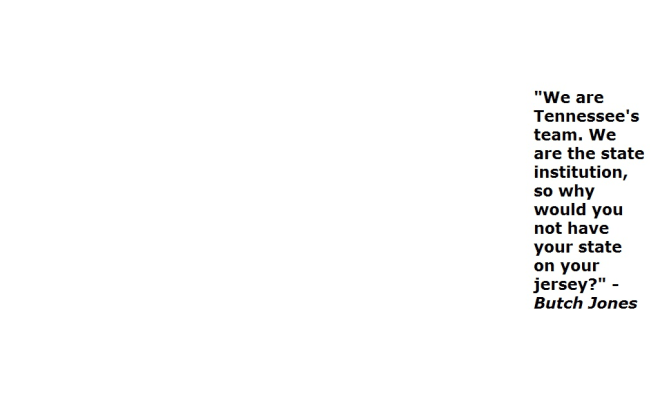 There will be some other changes to at least two of the Vols' uniforms, including what sources have said would be a faint, subtle checkerboard effect on the numbers of the road jerseys.
Multiple recruits excitedly had told VolQuest.com about the changes that they viewed as reenergizing the Tennessee brand in recent weeks.
"Obviously at Tennessee, we have such a long, storied tradition. And there's a lot of tradition in our uniforms and we want to make sure that we keep that tradition in our uniforms intact," Jones told VolQuest.com when he was asked about the minor additions. "But there are some things that I think are important, and one of the things is that 'I Will Give My All For Tennessee Today,' so to be able to add a patch of the state of Tennessee above the individual's name is, I think, very big for us."
Jones, who has drawn consistent praise from former Vols for his embrace of Tennessee's traditions, has made a point to reach back to a program's roots in his stops as a head coach. Sources had confirmed to VolQuest.com that the Volunteers would add their state name to the fronts of their road jerseys, again reinforcing Tennessee's status as the state's public university.
"The away uniform, to be able to embrace the tradition of the checkerboard into the number, I think is big," Jones explained. "And then when we go onto the road and adding Tennessee to the front I think was a great addition. Obviously the state (outline) of Tennessee will also be on the back on the away uniform as well.
"It's all a pride of who we are and what we are, and we are Tennessee's team. We are the state institution, so why would you not have your state on your jersey?"
While those jerseys and all other gameday apparel worn by University of Tennessee athletes and coaches will be made by adidas in the coming calendar of competition, the athletics department is entering into the final stages of its current contract with Germany-based adidas. Despite a downturn in on-the-field success, Tennessee's athletics programs are still viewed in the athletics apparel world as a powerful entity, and negotiations are expected to be at least a three-tiered competition to secure the Volunteers' brand moving forward.
Tennessee's current pact with adidas runs through the 2014-15 athletic competition calendar, but the parties will begin negotiations in the next six to eight weeks. Sources have told VolQuest.com that both Nike and Under Armour also would like to sit at the bargaining table with Tennessee's representatives.
According to sources, Hart has always included his coaches in the decision on apparel. Also sources confirmed that Tennessee would not base its decision simply on a bottom-line dollar figure but instead will examine a variety of factors. Hart has extensive history negotiating with Nike from both his days at Florida State and Alabama; Jones' Cincinnati squads had a variety of uniforms and apparel options from adidas during Jones' three years atop the Bearcats' program.

Click
Here
to view this Link.
[rl]