Vols 'really impressed' 4-star CB Warren Burrell on official visit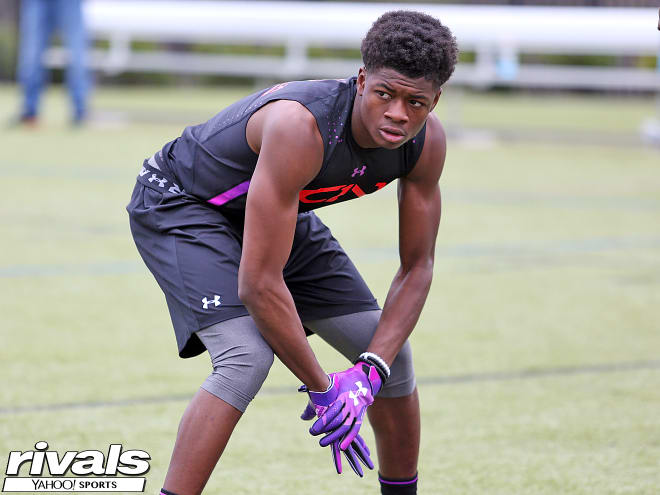 For the third time this spring, cornerback Warren Burrell made his way to Rocky Top.
The weekend trip to Tennessee was an official visit with his family, though, as the 4-star from North Gwinnett High (Ga.) took a closer look at the Vols as he nears a summer decision date.
"Tennessee is very high," Burrell said.
"The fact I took an official, I wanted to come down and look closely at them, and they really impressed me. It was a really good visit. It was really good.
"Being able to stay there for more than just one day, I got to see way more than I normally would on an unofficial. I got to see some of the same things, the academic center, the facilities, but I got to take more time. I got to look more into things, talk to more coaches for longer periods of times, so it was a really good visit."
The 6-foot, 165-pound corner holds more than 25 offers, but he recently announced a Top 7 of Tennessee, Georgia, Ohio State, Penn State, Notre Dame, Florida and NC State. The Peach State prospect plans to visit the latter two schools officially in the next few weeks before making his college choice in July.
"I don't know if I'm going to take all five (officials)," Burrell said. "I have three scheduled right now (Tennessee, UF, NC State), and my decision's going to be made in July, so if I can't fit anymore in, then that'll be it."
With Tennessee hosting just a few other visitors on campus this weekend, the summer visit allowed Burrell to spend "a lot of time" with head coach Jeremy Pruitt and defensive backs coach Terry Fair. The cornerback speaks with Fair "just about everyday" and both coaches stressed "how important I am to Tennessee."
The Vols are desperate for help at cornerback in the 2019 class and hope that Burrell is one of several blue-chip defensive backs eager to be coached by Pruitt and Fair. Tennessee loves Burrell's length and athleticism.
"It's a really good environment at Tennessee," he said.
"The coaching staff is a huge plus. What you see is what you get with them. It's a new staff, but they have everything under control. They have really big plans for Tennessee. It's attractive to see that."