What PFF's data tells us about Tennessee's 2018 offense
Earlier this week, I dived into Tennessee quarterback Jarrett Guarantano's 2018 stats, courtesy of Pro Football Focus. The data provided a rather clear picture of the redshirt junior's strengths and weaknesses, especially compared to his SEC brethren.
With that piece in mind, I thought it would be interesting to look at the rest of Tennessee's offense using PFF's database, especially since the Vols return almost every single contributor from last season.
We know the offensive line was bad in 2018, but how did it stack up against the rest of the units in the SEC? What does the information say about Tennessee's inconsistent running game? What about the team's veteran receiving corp?
Let's take a look...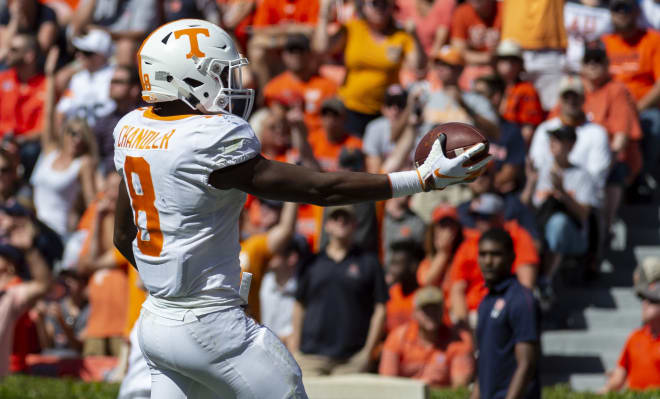 Tennessee's offensive line was much-maligned a year ago and a major reason the offense ranked No. 122 nationally — worst among all Power 5 teams not named Rutgers.
Will Friend's unit should look considerably different this fall though — blue-chip freshman signees Wanya Morris and Darnell Wright figure to be heavily involved — and that's probably a good thing.
According to PFF, Tennessee's offensive line was the worst pass blocking unit among the league's 14 teams — this despite attempting by far the fewest drop-backs in the conference.
The Vols' offensive line — so not including tight ends or tailbacks in pass protection — allowed 16 sacks, second-most in the league. LSU's OL allowed 17 sacks on 117 more drop-backs. Tennessee's offensive line also yielded the third-most quarterback hits in the conference, to which Guarantano sadly shakes his head.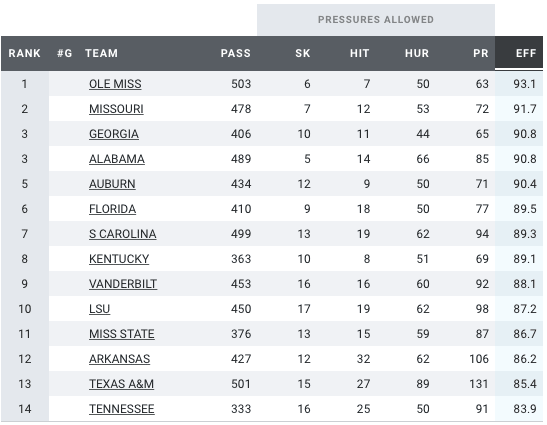 Individually, Marcus Tatum surrendered the most pressures on the team with 18, ranking eighth-worst in the SEC. Starting center Ryan Johnson was second with 17.
Notably, Johnson will be in a real battle for his job this fall with Brandon Kennedy's return from injury and K'Rojhn Calbert's ascension at right guard.
Overall, the Vols had seven guys (in order, Johnson, Drew Richmond (16), Jahmir Johnson (11), Jerome Carvin (10), Trey Smith (10) and Nathan Niehaus (10) allow double-digit pressures in 2018.
Richmond actually graded out as Tennessee's top pass blocker among the starters, but the now USC transfer also tied UF's Jawaan Taylor for the league-lead in OL penalties last year with 12.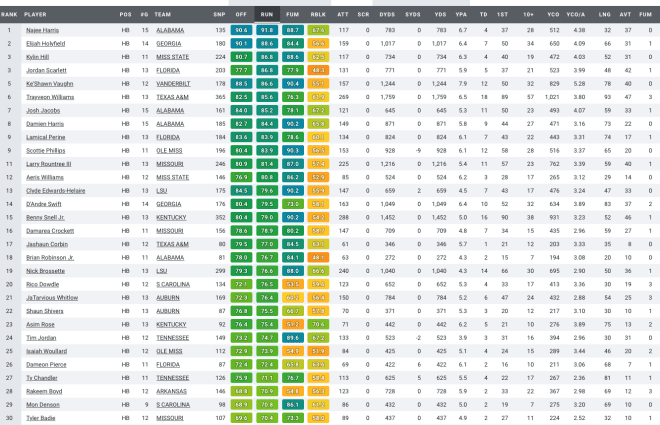 Moving onto the tailbacks, Ty Chandlers Q score is much higher with Tennessee's fan base, but using PFF's data, one could make the case that junior Tim Jordan is just as valuable as his more popular backfield mate.
Jordan is the more elusive of the two tailbacks, while Chandler offers up the home run ability, but both are fairly pedestrian by SEC standards.
Neither player (and the OL issues should be considered into the equation here) ranked inside the Top 20 running backs in the SEC last season.
Considering Tennessee's OL problems, it is interesting that Jordan routinely got more out of plays whether the blocking was there or not though. The junior actually ranked No. 8 in the league in PFF's "Elusive Rating," a formula that "distills the success and impact of a runner with the ball independently of the blocking in front of him by looking at how hard he was to bring down."
Jordan was better than future pros like Trayveon Williams, Benny Snell and Damien Harris at finding a hole that wasn't there or making a guy miss. Unfortunately for Tennessee, that's a tough way to build the base of your rushing attack, especially when your other tailback (Chandler) ranked No. 33 in the SEC in the same category.
A counterpoint to Jordan's elusive ability is that it can be negated if your vision is suspect. Jordan left plenty of yards on the field last season — something both Jeremy Pruitt and David Johnson talked about this spring — by routinely failing to hit the right hole.
Now, Chandler has his strengths as a runner, which is using his speed and one-cut ability to generate explosive plays. The Nashville native checked at No. 5 in the SEC in PFF's "Breakaway Percentage," which shows "which runners earn the highest (and lowest) % of their yardage on big plays (any designed runs of 15 yards or more)."
The issue is that Chandler was kind of a one-trick pony as a runner.
He offers plenty of value as a receiver, but nearly 50 percent of his rushing yardage (48.9%) came on just eight snaps in 2018. On his other 104 carries, he gained only 329 yards. Meanwhile, Jordan offered very little as a home run hitter, ranking 27th in the league in breakaway percentage.
Ultimately, PFF's data does a good job distilling why the Vols had so much trouble running the ball last year: The OL doesn't create enough holes, and even when they do, one of the two 'backs isn't consistent at seeing the running lanes. Also, both Jordan and Chandler, while both possessing a key strength, aren't good a breaking tackles either — especially compared to their peers, which only compounds the problems of generating yardage.
To me, this is one of the main reasons both Eric Gray and Jeremy Banks will get a real look in the backfield this fall is because they have the ability to turn a 3-yard run into a 6-or-7-yard gain.
Jordan was meh breaking tackles in 2018, averaging 2.96 yards after contact, which ranked No. 26 in the SEC. Chandler was just not good in that area, finishing second-worst among all eligible tailbacks in the SEC.
In fact, seven tailbacks in the league (Williams, Snell, Vaughn, Roundtree, Brossette, Holyfield and Swift) actually had more yards after contact (at least 635) than Chandler had total rushing yards (630) all season.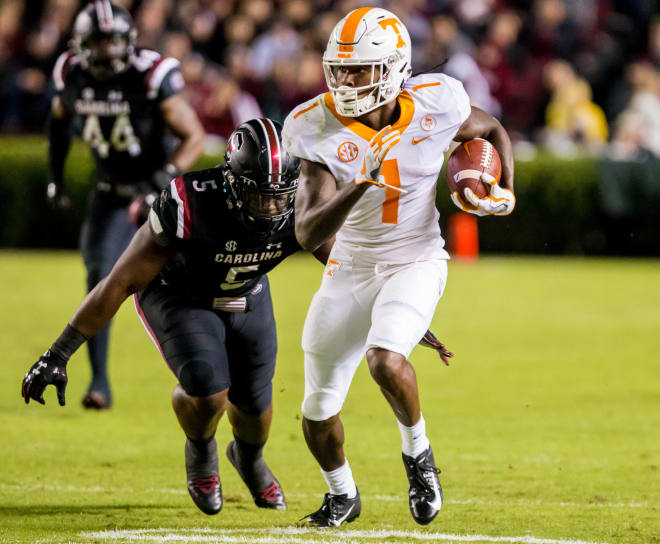 Finally, Tennessee will likely rely on its veteran wideout unit in 2019, and despite it's homogeny, the group has value.
Josh Palmer emerged as a true deep ball threat last fall, recording the third-most 20+ yard receptions of any returning SEC wideout this year. The junior was tied with teammate Marquez Calloway with eight such catches.
Both wideouts left a couple deep balls on the field too, with three drops.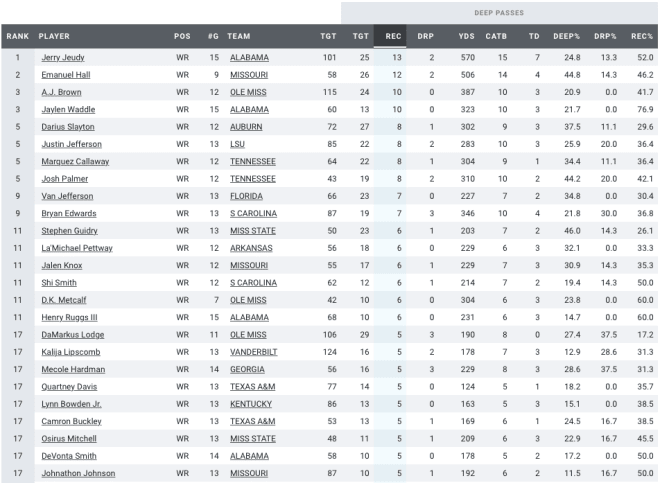 The question this fall is can Palmer, who was impressive this spring, develop into a more complete wideout?
While Alabama's Jerry Jeudy and Jaylen Waddle were among the league's best at generating explosive plays, they didn't just run 9-routes or deep posts. That's pretty much what Palmer was asked to do though under Tyson Helton, as 44.2 percent of his total targets came on balls over 20 yards in the air. That ranked No. 2 in the league among returning receivers and was largely a reason why Palmer averaged 21.04 yards per catch.
But can he become more versatile and give the Vols more production from other areas on the field?
Callaway, who led the Vols in targets, yards, and catches, checked in at No. 11 among all wideouts in the SEC, per PFF. Two of Guarantano's three interceptions came on passes aimed at Callaway. The senior was a reliable first down target, as 31 of his 37 catches moved the chains.
While the Vols don't have a natural burner to slid into the slot, Jauan Jennings did most of his best work from that area in 2018. Jennings was rarely used in that role during his breakout 2016 season, and before getting hurt in the 2017 opener, he saw just a single snap in the slot against Georgia Tech.
But Helton saw that Jennings' skill-set could translate well from that spot, both as a blocker and a receiver. The senior lined up in the slot more (209 snaps) than he did out wide (156 snaps) and most of his production came from the slot, too. Of his 30 receptions, 20 were from the slot, as were all three of his touchdowns.
Considering Palmer's emergence and Callaway's continued steadiness, using Jennings mostly in the slot is a great way to make sure Tennessee's top three wideouts are always on the field at the same time.