Where does Tennessee go next?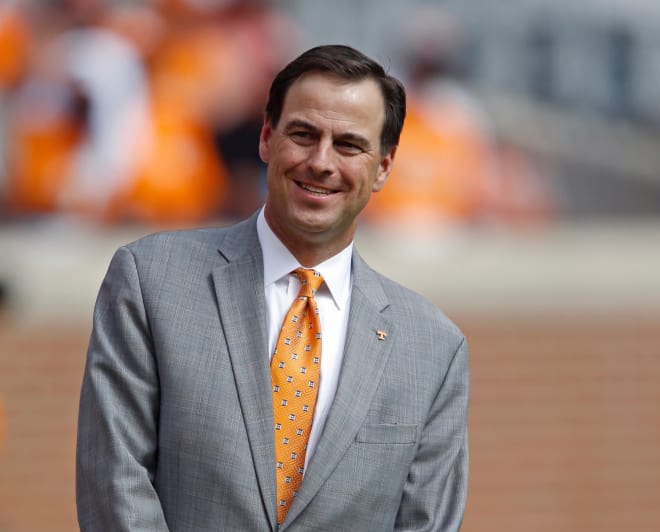 On this morning after what was the most bizarre day in a coaching search that the college football world has ever seen, the question is where does John Currie and the University of Tennessee go next in finding their replacement for fired coach Butch Jones.
If you are Tennessee and Currie, there are a couple different schools of thought. At least three in fact.
Thought #1 – Move on and get to the podium fast. Five years ago when Charlie Strong turned Tennessee down, then-AD Dave Hart quickly went to Butch Jones. In 1997, when basketball coach Kevin Stallings turned Tennessee down, then AD Doug Dickey went straight to the Final Four and hired Jerry Green.
This weekend at Florida, the Gators lost Chip Kelly to UCLA officially on Saturday. By Sunday afternoon, the Gators were finalizing a deal with Mississippi State coach Dan Mullen.
In many cases, when AD's miss out on their top choice for whatever reason, they turn around and immediately get another guy done. It's the most common practice after a public parting of ways. Who would that be for Tennessee, though?
That could be a guy like David Cutcliffe. Maybe a Tee Martin. Two guys who know the school and you might be able to move quickly.
Thought #2 – Fall back and re-group. It's been totally chatoic. Sunday was a day like no one had seen. Tennessee went from planning to bring Greg Schiano to Knoxville Sunday night for a 9 p.m. press conference to starting over its search. Tennessee definitely thought there might be a little negativity surrounding Schiano that they had a plan to handle at the press conference, but no one saw the overwhelming negativity coming.
So there's a school of thought that you don't rush into a quick decision. Don't compound not getting their top choice by making a quick, hasty decision. Yes, there's the early signing day and that's a concern. But getting it right has to be the biggest concern. After 10 years of being lost in the wilderness, Tennessee must get this fixed. And rushing to a decision it's not the soundest way to do that.
Thought #3 – Write a big check. There's always that thought. The Vols didn't get who they wanted. They couldn't draw interest from others that they liked. So open the checkbook back up by writing a bigger check to get home with someone. Overpay with someone just to get it done.
Again, you could call Cutcliffe and simply say how much? And get it done. Or maybe a Willie Taggert, a Jeff Brohm, or a Chad Morris? The bottom line is that interest level in this job is going to be questionable following the events of Sunday. As a result, Tennessee may have to write a bigger check to get this search done.
Regardless of which way Currie and the powers that be take this search, Currie's challenge is clear: He must find the right fit — which includes trying to unite the fanbase. Now, that's a task that seems harder and more important than ever after Sunday's unprecendented day.