With Elijah signed, Vols turning attention to Caleb Herring and 2023
With the Early Signing Period over and done with, much of the recruiting focus now shifts towards the next class and wave of athletes. And with in-state prospects of high-importance for Josh Heupel, the conversation starts with Caleb Herring.
Herring is the younger brother of Elijah Herring, who signed with the Volunteers on Wednesday. While the elder brother is projected as more of an inside linebacker, the 2023 four-star is an edge player. A good one too.
Herring is tabbed as the state's top-prospect for the class of 2023 and the No. 123 recruit in the country. He's ranked as the eighth-best outside linebacker in his class as he stands in at 6-foot-6, 210 pounds. The Riverdale standout owns a Rivals Rating of 5.9.
"I'm pumped up about it. I'm waiting until after the summer and after camps and stuff to narrow down my decision for schools," Herring said of being a year out from Signing Day. "My phone has been going crazy over these signings."
The Tennessee native has been a frequent visitor to Knoxville since the COVID dead period let up. He camped during the 'Night at Neyland' in early June and took part in a couple of game day visits this fall alongside his brother.
What's the next step for the Rivals 130 player? It's to get on as many campuses he can before making the informed decision.
"I have about 16 offers right now and am hearing from a lot of schools, but mostly it's from the ones who haven't offered yet," Herring said. "I'm going to take visits to places like Alabama, Florida, Michigan, Tennessee, Clemson and Ohio State. I'll narrow down the list by going to schools and then make a decision."
One thing of importance for Herring will to be able to camp or workout in front of coaches. The outside linebacker wants to see how the instructions go to give him a glimpse of what could be in store for him if he chose that specific school.
Outside of that, Herring is looking for a place that will give him a great overall college experience along with an electric game day atmosphere.
"Tennessee has mainly been focusing on the 2022 class of late, but they are telling me once that's wrapped up, they are coming for me hard," Herring said of the Vols. "I do think Tennessee offers what I'm looking for in a college."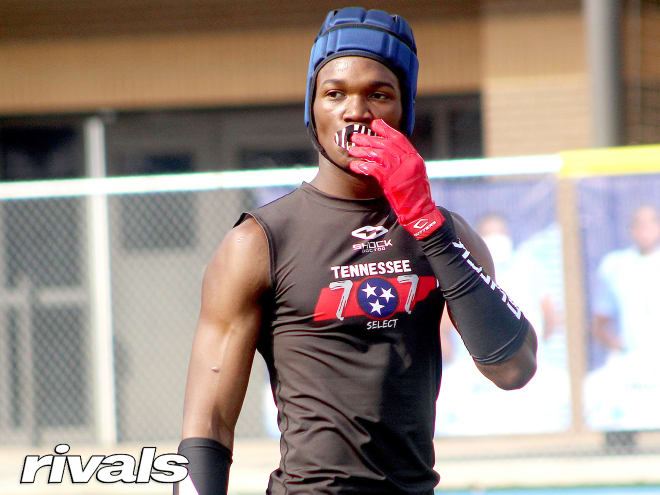 UT may have the inside track here, but it's anything from a slam dunk. Several of the top-football programs in the country will be after the four-star this year. But the Vols do have brother Elijah on their side and that could make a difference down the line.
"I was just proud of him. That's really the only thing that was going on in my head," Herring said of his brother's Signing Day. "I was proud of him to see this happen after everything he's accomplished and after all the hard work he's done.
"It's [playing with his brother in college] something I've been thinking about. My parents have been talking to me about it, too. It's cool, but I'll have to do what is best for me in the end."
Tennessee hopes to host a couple of Junior Days in the early winter. Getting Herring on campus for those will be of the highest priority.