Woods helps bring spirit to Vols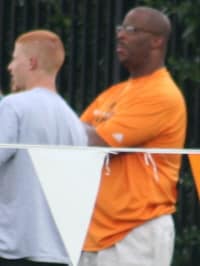 Roger Woods was comfortable, which in and of itself was a problem.
The effervescent Woods had settled nicely into the Chattanooga community where he felt God had directed him earlier this decade. It was in the Scenic City where Woods had met his wife. Where the couple had welcomed the birth of their daughter, poignantly named Faith. Where Woods had spread God's word through the Fellowship of Christian Athletes.
It was life as comfortable as a broken-in church pew, and Woods had long ago adapted an antithetical approach to settling in. After all, Woods had adjusted nicely to life as a special education teacher and basketball coach at his alma mater, Lithonia (Ga.) High School.
"I felt the tug of God calling me to leave Atlanta," Woods said. "The scripture God gave me was Genesis 12:1, where He commissioned Abram to get away from your kindred, get away from your country and go to the land. Get out of your comfort zone. Whenever I hear that word comfort zone, God stretches me. And I felt the call of God and the land He showed me was Chattanooga, Tenn."
After initially rebuffing overtures to replace James "Mitch" Mitchell earlier this year as team chaplain for University of Tennessee athletics, Woods knew his life was about to change when he informed Knoxville-area FCA representatives he simply was content in Chattanooga..
"After College Advance (an FCA gathering), they called back in March. Dean (Craig) called me back and asked if I was sure. I said, 'I'm comfortable here.' And when I hung up the phone, I knew. My wife and I had a conversation that took us back to when we got married, when God said we'd be in Chattanooga between five and seven years," recalled Woods, who attended Albany State and once served as a backup singer for Tyler Perry. "Well, we've been married six years. So that's when we really saw something there. I came up and met with Dean and Leon Willis and after that meeting, I really felt the peace about coming. Went back and talked to my wife and then came back in April and talked to Mike Hamilton and coach (Lane) Kiffin and a couple of other coaches. That was an overwhelming peace that I had."
Still, it was a bit of an slow-arriving one. Woods had been first approached in January; he was recruited with the verve of a prized prospect by a handful of Vols players at the FCA gathering shortly thereafter.
"We were at the FCA College Advance, and I saw several guys there. Namely Chris Walker, Anthony Anderson, Jacques McClendon and Nick Reveiz," Woods said. "God used them. They said, 'Hey, you're our chaplain!' And I told them, 'No, I'll see you next February.' But God used them in a mighty way."
Walker, who attended Memphis' Christian Brothers High School, wanted to take a proactive approach as the Vols sought a new chaplain to replace Mitchell, who joined David Cutcliffe at Duke.
"Roger's a great guy. I was really upset when Mitch left, because me and Mitch were really close. Bringing Roger in was a big plus for me because I knew him from FCA camp," Walker said. "When Mitch left, I was really lobbying for Roger to come here and I kind of heard that he wasn't. So I was a little bit disappointed, but when he got here I was really happy because I have some history with him and I know what kind of guy he is. It was really fun to get him here."
Added UT athletics director Mike Hamilton, who recently felt God's will guiding his family to adopt three Ethiopian children, "We are committed to each student-athlete's growth and well-being as a person while they are here. One component of that model is their spiritual growth. We have had a long standing relationship with FCA and appreciate their willingness to provide a Chaplain to assist with this. In the short time Roger has been here, he has done a tremendous job building relationships with our young men and women and our staff and we look forward to the positive impact he will have in the months and years ahead."
Keenly aware of the importance of having a galvanizing adviser, Woods credits a pair of influences for helping him arrive at this point.
"I knew Danny (Buggs) for years, but Danny became that mentor, that spiritual mentor and father," Woods said. "Danny played in the NFL for a number of years with the Washington Redskins and New York Giants. He went to West Virginia, played for Bobby Bowden. He's the guy who took me under his wings. I always believe in having that someone to look up to, you know, Paul, Timothy, Moses, Joshua. So after my pastor (Columbus Hartwell) passed away, Danny became that for me."
In turn, Woods has dedicated his life to providing similar guidance for others. While serving as chaplain at UTC, the former three-sport athlete at Lithonia High School who once garnered the attention of Major League Baseball scouts made an undeniable impact on the Chattanooga community.
"We went from I would say a small FCA to where we, at times, had close to 100 athletes showing up," said Woods, whose work at St. Paul Church in his hometown aided the congregation's growth from charter status to a roll of more than 900 members. "We started a Sunday night discipleship where we had 25 athletes on a regular basis. I had a young man, again I believe in the mentor/mentee relationship, and I had a young man to mentor and disciple, Zach Ferrell. I discipled him for two years and then when I left UTC, he stepped in."
Now Woods is settling in at UT and fostering his vision for growing FCA's role within UT athletics. With the help of a trio of student interns, Woods is launching a newsletter next week. Long-term Woods hopes to provide men's and women's chaplains.
He's already conducted his first service, on Aug. 9, and had nearly 75 people attend. Holding an on-campus service, Woods said, was the head coach's idea.
"We had our first meeting, and actually at coach Kiffin's request, he requested we have a church service here on campus, and our first one we had approximately 75 players and or coaches at that meeting. God did a great thing," Woods said. "We had a little worship, and I just shared from God's word how 'It's Time,' and that's our theme this year (for the team). But we talked about how it's time for Godly men with Godly motives and a Godly mindset. And it was a real awesome time. Real awesome time."
Adds Walker, "It's really important to have Roger, just because there are going to be times that we're not feeling too well or are not going to be in the right mind we need to be in. We can just go to Roger, and he'll give us the spiritual leadership and be that dad that we need here. We don't have our fathers here in Knoxville, so he's one of those guys we can just look up to."
Though he has an office workspace on campus, Woods is not a UT employee nor does he receive UT benefits. Funding for his position comes through sponsors and donations to FCA (www.fca.org for more info) and are critical for sustaining the position's viability. Woods also has written a Christian-themed Vols song, "It's Time," that could be an additional avenue to raise more funds for the program.
Still, the affable Woods doesn't worry because he's convinced God's hand is guiding him.
"Going back to where I told you, every time I say the word comfortable and comfort zone, in one of the phone calls with Leon and Dean, I said I'm comfortable with where I am," Woods recalled. "That's when I hung up the phone and I knew God was stretching me. …
"We took a leap of faith, and it's been a leap of faith every since. We're still in the process of having to raise a lot of the support. We've had some gracious donors to support us to this point, but it's always an ongoing thing."
For Woods, it's almost about being comfortably uncomfortable. He wouldn't have it any other way.