{{ timeAgo('2020-05-12 12:18:26 -0500') }}
football
Edit
Hudson Wolfe updates Vols recruitment amid shutdown
Four-star tight end Hudson Wolfe was one of the final visitors on UT's campus prior to the coronavirus shutdown in-person recruiting.
In fact, the in-state prospect was on campus the day SEC commissioner Greg Sankey announced the restriction, checking out one of the only two spring practices Tennessee was able to get in.
"It's just unfortunate I can't continue this process by taking my official visits," Wolfe told Volquest. "I understand it's for the safety of everyone. I get it, but I had a couple of officials lined up that I was looking forward to."
Wolfe was prepared to visit Ohio State and Alabama during the spring practice period.
Despite the shutdown, programs have continued their good ties with the tight end. Representatives from the Vols coaching staff speak with 6-foot-6, 235-pounder a couple of times a week to maintain the relationship building process.
"None of my relationships with Tennessee or any of the other schools have waivered during this time," Wolfe said. "I probably talk with Tennessee more than twice a week. I was just on the phone with coach [Joe] Osovet and coach [Will] Friend earlier today."
Wolfe made mention of Tennessee's new tight end coach in a previous interview with Volquest following the March visit.
"Coach O is a great guy. I like him a lot. He's a real fiery guy," Wolfe said at the time. "I was watching him coach when I was there, and I really liked the things I saw. I'm really looking forward to continuing the relationship with him."
The Hardin County, Tenn. native said the relationship has continued to grow and it's getting better by the day.
Wolfe, like every prospect around the county, has also taking notice to Tennessee's recent success on the recruiting trail.
"You want to go to a team that has a lot to build around. Tennessee has that," Wolfe said of the Vols. "These guys who are committing left and right prove Tennessee is on the come up. I expect them to continue to get great players."
Head coach Jeremy Pruitt has drawn praise from many around the country during the span. SEC analyst Paul Finebaum said in a recent interview on WJOX 94.5 Jox in Birmingham that Tennessee is on the 'cusp' of being great again and that what Pruitt is doing now in recruiting rivals what Phillip Fulmer was doing in the 90s.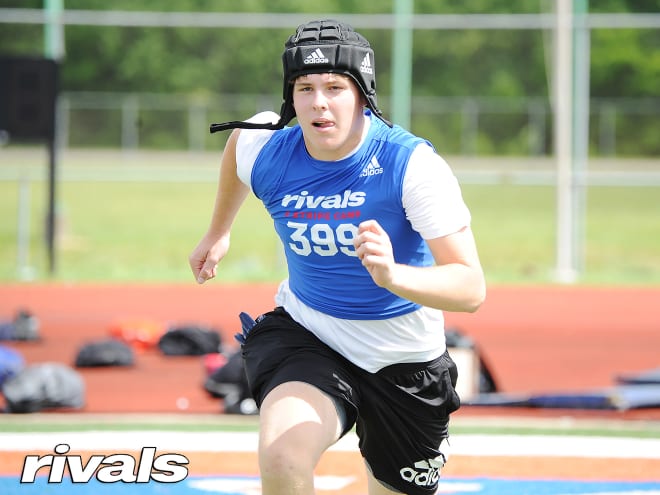 "My confidence in coach Pruitt continues to grow. He's a proven winner as he's done it everywhere he's been," Wolfe said. "He started from scratch at Tennessee and the recruiting class he is building now shows there's big things to come in the future."
Wolfe reiterated there is no set timetable for his commitment to be announced, stating he's in no rush to make a decision of this magnitude – especially under the current circumstances.
"It really comes down to whatever I feel is right for me and my family," the four-star said. "Maybe it will come at the end of the season. Maybe it will come in the next month. I really don't know right now."
In the meantime, the Volunteer State native will continue working out and training at home in-between hunting and fishing sessions to keep him occupied during the pandemic.