Jones discusses Kendrick controversy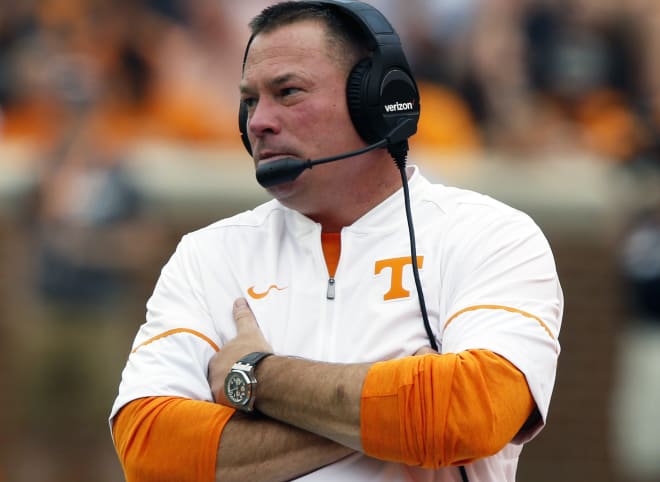 Tennessee's 2017 football season has taken on all the trappings of a soap opera as the losses mount and rumors of Butch Jones' job security swirl at an unprecedented clip. This week the drama has centered around widespread rumors that Jones and the Vols allowed senior offensive lineman Brett Kendrick to play in last Saturday's game at Kentucky after he had suffered a concussion.
Rumors reached such a fevered pitch on Tuesday that athletic director John Currie was compelled to issue a statement on the matter Wednesday morning. (Currie's statement)
Jones opened his regular Wednesday press conference by listing the players who would be out against Southern Miss, and he included Kendrick in that group.
The head coach followed up his injury report by pointedly stating, 'I'm not going to comment any further in terms of any private medical information today.'
Following that statement, Jones was asked if he and his staff had knowingly played an injured player against the Wildcats. Kendrick's name wasn't specifically mentioned, though it was obvious the senior was the subject of the question.
Jones vehemently denied that was the case.
"John Currie issued a statement earlier today and I'll tell you this, we would never knowingly put a student athlete in harm's way," Jones said, going on to add that the decision wasn't even in his hands once an injured player was identified. "Our medical staff has full authority on removing players from competition and also have the authority to return players to competition.
"I have absolutely no say in these decisions. The Southeastern Conference has also been very proactive in terms of having an independent medical observer in the press box that looks for these issues. The officiating crew also has full authority to remove an individual from competition."
Jones added that in the event that the SEC's medical observer in the press box suspects that a player has been injured they will buzz the official on the field who will remove the player from the game, a process that does not include the head coach.
Putting all the controversy aside for a moment, Kendrick's absence will have a tangible effect on the field this Saturday along an offensive front that's been reduced to shambles due to injury. Not only is Kendrick out, but sophomore Marcus Tatum remains sidelined and Drew Richmond is listed as questionable.
On Tuesday Tennessee had six scholarship offensive linemen available and at practice. That group of six included true freshman Riley Locklear and redshirt freshman Devonte Brooks, a converted tight end.
Brooks worked at right tackle on Tuesday with freshman Trey Smith moving over to left tackle to work in Richmond's spot.