Smith 'blown away' by Tennessee visit, places Vols in Top 3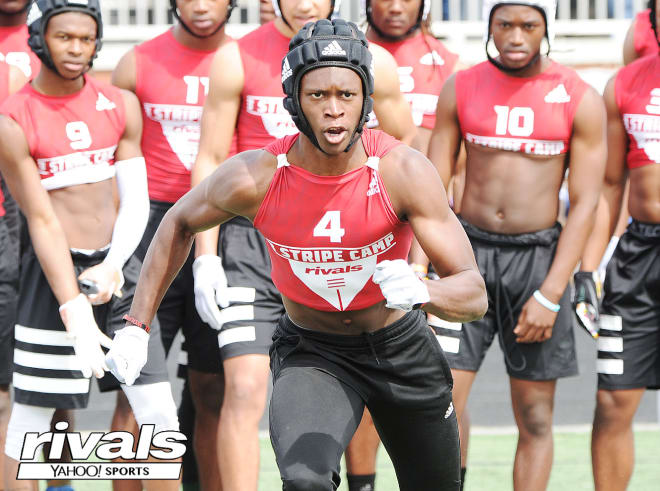 With last week's commitment of 4-star safety Anthony Harris, Jeremy Pruitt officially landed his first defensive back in the 2019 class.
But the Vols still have several spots to fill at cornerback, hosting a number of top targets in recent weeks.
A month ago, Westwood High (S.C.) corner Cameron Smith picked up a Tennessee offer and over the weekend, the 3-star prospect made his first visit to Rocky Top. Smith spent Friday and Saturday in Knoxville, touring the campus, town and facilities before working out for the staff on Saturday morning.
"It was a great visit," Smith said.
"At first, I wasn't expecting it to be so nice but I was blown away once I got there. The family atmosphere, the facilities, how close knit they are, how the fan base is set up, everything."
Smith measured in at 6-foot-0.5, 170-pounds and ran the 40-yard dash between "4.4-4.5." He did various 1-on-1 drills with cornerbacks coach Terry Fair, who told Smith, "I did great. They like my length, how I can cover ground well. They like how physical I am and my ball-skills."
Following the visit, Smith, who has more than 20 offers, currently has a Top 3 of Tennessee, South Carolina and North Carolina. Smith said the Vols have upped their communication in recent weeks and he realized over the weekend just how coveted he is by the new coaching staff.
"They really showed me how important I am to them," he said. Coach (Jeremy) Pruitt had the New York Jets head coach (Todd Bowles) in the office waiting on him, but coach Pruitt was just talking to me and spending time with me."
Smith was impressed with Tennessee's facilities, especially the layout of the new athlete dorms and Anderson Training Center. He plans to take an official visit with the Vols this fall to get a closer look, as well as see a game in Neyland Stadium.
The cornerback is set to camp at Clemson and Georgia later this week and then attend North Carolina's recruiting event on Saturday. He's is tentatively set to announce a commitment sometime in mid-August and then take his official visits in the fall. The Vols are definitely in contention, but Smith admits it might be hard to ultimately turn down the hometown Gamecocks.
He grew up a South Carolina fan and recently got an offer from Will Muschamp and Travaris Robinson after a sterling camp showing.
"They're on me hard," Smith said of South Carolina.
"They text me and my mom everyday. About the school, the culture, the winning program and how they're investing into their program."