Upon Further Review: Rocky Top Bottom
In the last 24 hours, I've been asked by a lot of folks, "Did you see that coming?"
How could anyone?
Vegas certainly didn't and Tennessee's coaching staff was absolutely shell-shocked by the performance.
Georgia State entered Saturday 0-10 against Power 5 foes, losing by an average of more than five touchdowns.
Yet yesterday, the Panthers nearly beat the Vols by two scores.
All the offseason optimism was erased by a single shocking performance.
I wasn't someone who bought into the 8-4 or 9-3 hype this summer, but even I allowed myself to get sucked into some of the strength and conditioning happy talk and thought the Vols were capable of winning six or maybe seven games.
Perhaps they still will. But I wouldn't count on it now.
See, here's the truth. For nine months, college programs mostly exist in the shadows.
Every now and then, teams allow you to see a little light. Sometimes it's not even 10 minutes. Sometimes it's a glorified patty-cake scrimmage.
But mostly, what you know about a team is through whispers or guarded public statements. The narrative is controlled.
It's why college football is the hardest sport to predict.
Outside of a very select few top teams, you really don't have an idea how 70-85 guys, all around 18 to 22, will perform together until you actually see it with your own eyes.
For the first time in nine months Saturday, we got that chance and everyone saw it was no fluke that Tennessee got schooled by a Sun Belt school to open Year 2 of the Jeremy Pruitt Era.
With that, the Starting 11...
THE STARTING 11
Each week, I'll rewatch the tape so you don't have to. Here's a skinny dozen of notes, analysis and final thoughts…
1. Rapid report card grades!
QB: C-
RB: C
WR: B+
TE: B-
OL: C-
DL: D
LB: D-
DB: D
ST: A
2. Five guys who I thought played well
A. PK Brent Cimaglia
B. WR Jauan Jennings
C. WR Marquez Callaway
D. LG Jahmir Johnson
E. LB Kivon Bennett
Cimaglia was clutch, drilling all three field goals including a career-long 48-yarder. Jennings was Jarrett Guarantano's go-to target in the slot, feasting against Georgia State's iffy secondary. He finished the opener with 108 yards on seven catches, a career high. Meanwhile, Callaway had just three receptions, but he hauled in a touchdown and chipped in a couple nice blocks on the perimeter in the run game, including catching two guys on Ty Chandler's long score.
While the offensive line struggled as a whole, I thought the smallest guy on the unit looked the best from my raw eyes. Johnson may only weigh 275 pounds, but he was the most physical in the run game, and unlike Wanya Morris and Marcus Tatum, was the best pass-blocking tackle, too. Lastly, Bennett flashed. Like everyone else on defense, he made mistakes, but he ran to the ball hard, had a couple quarterback hurries and was much more consistent on a down-to-down basis than Deandre Johnson.
Eric Gray flashed and oftentimes stuck his foot in the ground and made the first defender miss. He had some issues in pass protection, though. I did think Darnell Wright was solid, especially in pass pro, in his first college game. Another newcomer who made a few plays was Darel Middleton. He and Greg Emerson certainly showed up more to me than Aubrey Solomon.
3. Five guys who'd like Saturday back
A. QB Jarrett Guarantano
B. Tennessee's inside linebackers
C. RT Marcus Tatum and LG Trey Smith
D. DB Warren Burrell
E. The Vols' entire coaching staff
Guarantano just didn't have it Saturday. He threw hot on the first two plays of the game — the second resulting in a turnover. He found a groove on the long scoring drive, capped by a perfect fade toss to Callaway, but was later bailed out on a terrible interception in the red zone thanks to a pass interference penalty. He missed Jennings for a layup, who was wide open on a little zone hook route. The Vols were lucky to even get a field goal there, thanks to some home cooking from the clock operator.
Guarantano's stat line didn't look that bad at the end (26 of 40 for 311 yards, two touchdowns and an interception), but 69 yards of that production came in garbage time after the redshirt junior had effectively ended the game with a poor interception over the middle. Guarantano was playing behind an offensive line that constantly shuffled bodies, but two of the four sacks were on him once again holding onto the ball too long. The sack-fumble was a play where he and Brandon Kennedy simply weren't on the same page, he noted postgame.
He also seemed to have exactly where he wanted to go with the ball pre-snap without any sort of sight adjustment afterwards. That's how he missed Eric Gray on a potential big play on an arrow route, had the negated INT to Palmer and threw short of the sticks early in the fourth quarter to Austin Pope on 3rd-and-3 (when Callaway was open a short button route).
Tatum struggled (multiple pressures allowed) and Smith looked rusty. He messed up a stunt on his first play and never looked comfortable in pass protection. Tennessee's inside linebackers had real problems recognizing GSU's option offense. They rarely filled the right gaps and the H-back (who just asked as an extra guard) constantly confused them.
Henry To'oto'o has explosive traits and tackled well, but appeared to get pulled due to a few missed assignments. No matter, Will Ignont, Shanon Reid and Jeremy Banks weren't any better. As a whole, the group got picked on in the passing game, allowing five catches (four for first downs) and a touchdown.
As for Burrell, he looked like a freshman making his first-career start Saturday. He wasn't afraid to put his nose in there in the run game, but he missed a crucial tackle and allowed three receptions including a touchdown.
Other guys could easily qualify here, too. Trevon Flowers struggled at times and got pulled for Theo Jackson. Deandre Johnson had the big strip-sack but was very inconsistent. Josh Palmer had a potential touchdown hit his hands and failed to seal the edge on Ramel Keyton's jet sweep, missing an opportunity to turn a short conversion into a go-ahead touchdown rather than a field goal. Kurott Garland also got eaten up inside, which leads me to…
4. The coaching staff.
Their performance was pitiful. They make the big bucks and earned all said criticism after Saturday.
So many decisions made zero sense. They know way more about football than I'll ever know but even in the preseason the idea of a Chinese fire drill on the offensive line sounded insane. In Week 1 we saw exactly why, too.
Garland missed the entire spring and most all of fall camp, yet played around 20 snaps while Matthew Butler saw fewer than five total snaps and Elijah Simmons didn't play at all?
How about Ty Chandler's usage? He didn't touch the football on offense after he fumbled in the final drive of the first half. But if he was benched for ball security, why was he rewarded with the start in the first place and had six touches in the first quarter when fumbling has been a problem for him all preseason?
The lack of urgency in the two-minute drive before halftime was bizarre, as was Jim Chaney's decision to completely abandon the run in the second half. The Vols called a single run the final 22 minutes of the game. Meanwhile, they also refused to take many downfield shots against the worst pass defense in the nation a year ago.
Defensively, Pruitt lamented postgame that schematically Tennessee didn't have a chance at times. I'd say. The Vols were constantly outnumbered (sometimes 8 v 6 in the box with 2-high safeties). But instead of adjusting, they mostly just kept juggling different LB combos.
Jeremy Pruitt said Tennessee didn't have a chance at times Saturday. This is what that looks like.

The Vols played nickel ~90% to combat GSU's spread yet there were constantly out-manned in the box (sometimes 8 v 6) or mis-aligned. pic.twitter.com/vZD7bfAITP

— Jesse Simonton (@JesseReSimonton) September 1, 2019
Other times, they were totally mis-aligned, confused or had the calls come in so late they were drowning before the ball was even snapped.
How do you not call a timeout when you see two defensive ends lined up next to each other on 3rd-and-long? What about when Deandre Johnson was sprinting onto the field late down in the red zone and GSU scores a 20-yard touchdown?
That's a lot of questions that need answering from one of the priciest staffs in America.
How many bad things can happen on one play?

Well, the Vols inexplicably don't call TO even though a guy is running onto the field late and the rest of the defense is mis-aligned.

The DL gets pushed backwards, the ILB takes a poor angle and Flowers runs into no-mans land.

TD. pic.twitter.com/WSufwP7xL0

— Jesse Simonton (@JesseReSimonton) September 1, 2019
5. By my count, Tennessee played at least seven different offensive line combinations Saturday.
The group's best showing as a unit was the 16-play drive that resulted in Callaway's touchdown. That was "the starting five" of Wanya Morris, Ryan Johnson, Brandon Kennedy, Riley Locklear and Marcus Tatum.
Johnson and Trey Smith appeared to split snaps fairly evenly. Jahmir Johnson played more left tackle than Morris, who also saw a handful of reps at guard. Jerome Carvin played in just two series, while K'Rojhn Calbert didn't see the field at all.
The idea of working to find your best five for the Florida game should be thrown out the window. Whoever performs the best in practice over the next five days should get a long look TOGETHER against BYU.
6. Tennessee got whipped on both sides of the ball, and after the game, GSU head coach Shawn Elliott delivered a damning quote, especially regarding the Vols' defensive line.
"If I were to turn on the tape, that may be the glaring flaws to some degree for Tennessee. And I didn't know because I watched tape of last season. Those are some things that we felt like we could control. Not that we felt like we were going to dominate the line of scrimmage by any stretch. But I thought we had quickness in our defensive line, to give their offensive line some problems. And I thought we could push them a little bit with our offensive line," Elliott said.
"We try to keep guys very, very simple for our guys up front and for the most part they did exactly what we thought they could do. Went out and executed. And at times I felt like we could've run the same play over and over again. If you go back and watch it, we probably did a number of times."
The head coach of a Sun Belt team that went 2-10 a year ago and was picked to finish last in its division in 2019 watched tape of Tennessee last season and entered Saturday feeling confident his team could push around an SEC foe.
Just wow.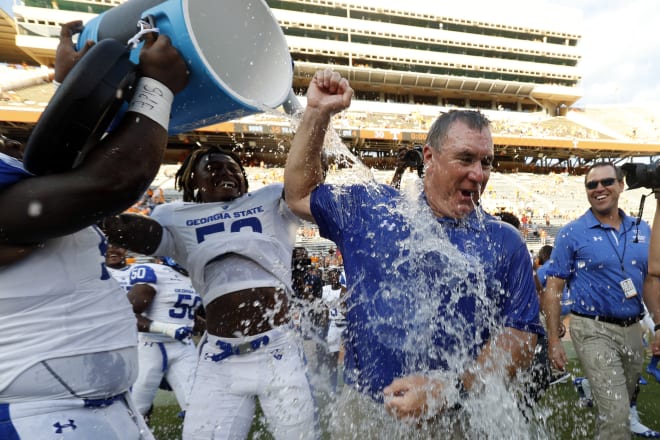 7. Pruitt was frustrated with his defense's inability to get off the field on third down (GSU was 10 of 17), but much of the problems started on first down.
The Panthers ran the ball on 23 of 31 first downs, including 9 of 11 before halftime. They were routinely ahead of the sticks, setting up manageable 3rd-down conversions over and over. In all, they had eight snaps at 3rd-and-2 or shorter.
8. The Vols finished with more total yards (404 to 352), fewer penalties, punted just once, were 8 of 13 on third downs, led at some point in all four quarters and ultimately lost the game.
I'd say that's hard to do, but they were bad in the red zone and also lost the field position battle thanks to three turnovers inside their own territory (23-yard line, 36-yard line and 39-yard line), which GSU turned into 17 points. It could've been worse, too. Chandler recovered his other fumble inside Tennessee's 35-yard line and Callaway put the ball on the turf after a long punt return at midfield, only to get it back.
9. There were plenty of "what-if moments" from Saturday (Nigel Warrior pass interference penalty, Josh Palmer having a touchdown slip through his finger-tips) but Dominick Wood-Anderson getting caught from behind stands out to me.
The Vols got the big turnover they needed, Chaney dialed up the perfect play and DWA was all alone for 40+ yards. You can't expect a tight end to out-run a whole defense, but DWA nearly did. He almost tip-toed the sidelines to stay in bounds. If Tennessee scores a touchdown there does the team finally wake up? Would the crowd? We'll never know.
10. Pruitt was complimentary of Tennessee's special teams and the unit does deserve real credit.
It should be a strength all year. Cimaglia boomed his kicks and Paxton Brooks was a perfect 5-for-5 on touchbacks. Joe Doyle won the punting competition and had a 47-yarder on his lone attempt, Callaway had a long punt return and Chandler averaged 33 yards on his kick returns.
11. Final thought here, but perhaps Tennessee should adjust its idea of shooting off fireworks after every touchdown.
It might be some contractual deal, but that was some sad trombone stuff at the end of the game. Neyland Stadium was empty, mostly silent at this point with just a smattering of boos, and then Jennings scores to make the final look more respectable and fireworks explode into the sky.
Awful.