What PFF's data tells us about Tennessee's 2018 defense
We complete our deep dive into Pro Football Focus' data on Tennessee's 2018 season with a look at the defense today.
Last week, I examined quarterback Jarrett Guarantano's strengths and weaknesses and then outlined how the rest of Tennessee's offense performed compared to its SEC peers.
Defensively, Tennessee was totally average last season.
The Vols were capable of pulling together strong halves (even against explosive offenses like West Virginia and Georgia), only to crater due to a lack of depth. Tennessee's defense checked in at No. 9 in the SEC in both total defense (377.4 yards per game) and yards per play allowed (5.67) and PFF's data supports those raw stats, as the Vols graded out as the league's No. 10 total defense. On the whole, they were pretty pedestrian and clearly a notch below teams (in order) like Alabama, Georgia, Auburn, Mississippi State and UF.
PFF incorporates four categories — run, pass, tackling and pass rush — to build a team defensive grade. Here's a look at how Tennessee compared to the rest of the SEC:
No. 8 in pass defense

No. 11 rushing defense
No. 13 in pass rush
No. 5 tackling defense
The Vols were legitimately a solid tackling team outside of a couple contributors (more on that in a moment) but they ranked ahead of only Vanderbilt in terms of consistently pressuring opponents' quarterbacks. Outside of shutting down Benny Snell and Kentucky, Tennessee's run defense faltered too often last season again good rushing teams, too.
It should be noted that Tennessee did grade out as the league's No. 3 special teams unit, and considering the Vols have added more speed to the roster and all their specialists return, this could be a real strength for the team in 2019 and could swing a game or two the schedule.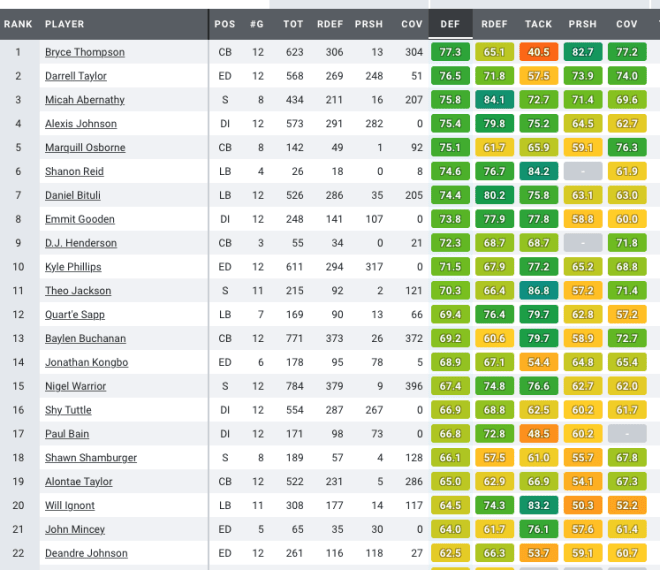 Individually, the Vols did not have a single player (who saw at least 25 percent of his team's snaps) ranked inside the Top 50 in the SEC. Freshman All-American cornerback Bryce Thompson, a future star, checked in at 57th overall, highest among the Vols.
The South Carolina native came to Tennessee as a two-way star, but with much more experience as a playmaker with the ball in his hands. Yet Jeremy Pruitt saw Thompson's potential to be a playmaker on defense, and the freshman responded with three interceptions, a forced fumble and six PBUs. What's most encouraging about Thompson's game is how much room there is for him to improve. Even though he was Tennessee's top defensive player in 2018, he allowed close to 200 yards after the catch (among the worst in the SEC, per PFF) due to 13 missed tackles (most on the Vols). Thompson is absolutely capable of shoring up that area of his game, which should only make him a more complete corner the next two seasons.
Tennessee had five other players ranked inside PFF's Top 100: Darrell Taylor (62), Micah Abernathy (68), Alexis Johnson (73), Daniel Bituli (84) and Emmit Gooden (89). For comparisons sake, Georgia led the way with 13 players ranked inside the Top 100, while Alabama and Auburn had 10, UF, Kentucky and Mississippi State had nine each. The Vols had more players represented than South Carolina (4), Vandy (4) and Arkansas (2).
As noted above, Tennessee's run defense wasn't great a year ago and the Vols must replace a trio of seniors who played the majority of snaps in 2018. The good news is Gooden was actually UT's most disruptive run defender last season. An increase in snaps should help shore up a leaky rush defense.
Per PFF, Gooden was tied for fourth in the SEC in run stop percentage, a formula that "focuses only on running plays and "stops" (tackles that constitute a "loss" for the offense)." Now, the rising senior played by far the fewest snaps among those in the Top 10, but clearly the potential is there with a stop percentage (12.8) that wasn't too far off from Alabama's monstrous tackle Quinnen Williams (14.2).
Who will help Gooden up front is the bigger question entering the offseason?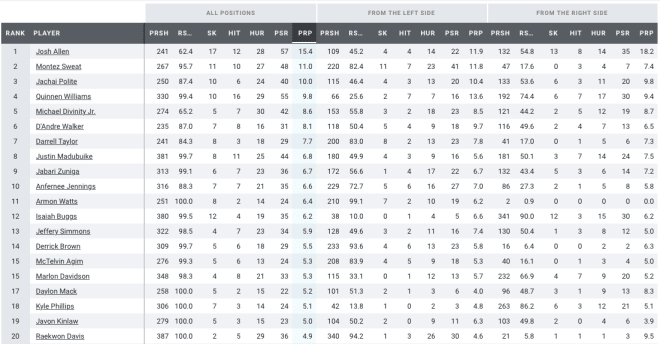 In terms of pass rush, the raw numbers pretty much tell the tale here: Tennessee ranked near the bottom of the SEC in both sacks and TFLs because it was Darrell Taylor or bust. The dude needs help.
Taylor was also feast or famine himself last season (seven sacks in two games, one sack in the other 10), but still ranked as the SEC's No. 7 pass rusher, with PFF explaining, "Pass Rushing Productivity" rating measures pressure created on a per snap basis with weighting toward sacks." As for returning SEC players this fall, Taylor ranks only behind LSU's Michael Divinity.
Taylor finished the year with eight sacks and 29 total pressures.
Breaking down the numbers, I thought it was pretty fascinating to see where Taylor did all his damage. Although UT moves its outside linebackers around depending on the play, Taylor lined almost exclusively over the right tackle last season in pass rush situations. Nearly 85 percent of his rush snaps came from the left side, as did all eight sacks and 23 of his 29 overall pressures.
With Taylor occupying the left side, Tennessee used Kyle Phillips as its edge threat on the right side. Of his seven sacks, six came off the right edge — tied for third-most in the league with Williams. Phillips also tied for second in the league with five batted balls at the LOS.
But Phillips has exhausted his eligibility and Tennessee is currently searching for answers opposite Taylor. Although Phillips, as well as Alexis Johnson, Shy Tuttle and Jonathan Kongbo, weren't world-beaters, Tennessee must replace 53 percent of its total team pressures from last season.
Kivon Bennett, who shed weight and had a nice spring, played all of 32 snaps in 2018 but is an option at ROLB. Deandre Johnson has some skills, but struggles in space (he had one of the worst tackling percentages on the team). Could one of the freshman — either Henry To'oto'o or Roman Harrison — get a look? Expect the Vols to experiment a bunch at this spot early in 2019.
The Vols were an awful tackling team in 2016 (No. 11 in the SEC), but they improved dramatically in Bob Shoop's second season. Jeremy Pruitt, Kevin Sherrer and others on staff maintained those renewed fundamentals in Year 1, as the Vols posted nearly an identical tackling rate last fall. Tennessee had several guys ranked in the Top 25 in tackling efficiency, a stat that "shows the number of attempted tackles per miss."
Theo Jackson barely qualified for the minimum snaps requirements (25 percent), but ranked in the Top 5 among all linebackers and DBs in 2018. Will Ignont was also in the Top 10. Daniel Bituli was also solid. Thompson, meanwhile, did not fare well in this category, tying for the third-most missed tackles in the SEC on pass plays (7).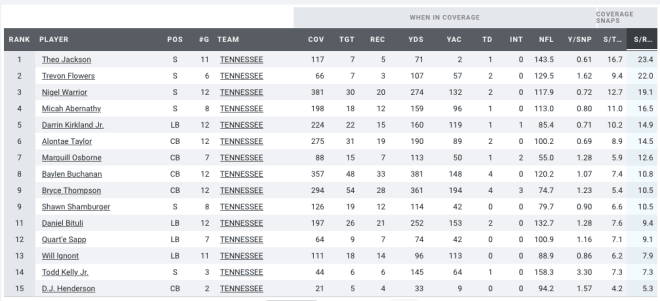 Finally, the graphic above is a look at Tennessee's coverage stats from 2018. Now, context is very important here because this includes no minimum snap qualifiers and corners are naturally at a disadvantage compared to linebackers and safeties because they see more targets. The order is generated by snaps per reception, which is why the safeties are ranked at the top.
The graphic doesn't delve into where players are in coverage, but PFF has data that does and defending the slot is clearly an area where the Vols must improve in 2019. The nickel/STAR spot is such a critical position in Jeremy Pruitt's defense, and Tennessee was routinely torched by slot wideouts and tight ends last season.
Baylen Buchanan ranked No. 19th among all eligible corners or safeties who saw at least 100 snaps defending the slot. He allowed the fourth-worst NFL passer rating with 20 receptions on 28 targets, including a league-high in touchdowns.
In limited snaps, Nigel Warrior (11 receptions allowed on 15 targets and a score), Shawn Shamburger (11 receptions allowed on 15 targets) and Bituli (6 receptions allowed on 8 targets and two touchdowns) were just as bad, if not worse.
Tennessee worked a lot of guys at the STAR spot this spring, including even experimenting with Thompson some inside. Considering Buchanan's health concerns and a lack of other available options at corner, the Vols are going to need Shamburger or Warrior to be better there. That or hope a guy like freshman Jaylen McCollough is capable of playing a sizable role or Deangelo Gibbs gets his eligibility waiver.